Bass fishing is a great way to enjoy freshwater, whether winter or summer. For beginners learning how to catch bass, it can be overwhelming. However, simplifying the requirements can make it easier and will make bass fishing easier. All you need are the perfect fishing gear and a bass lure. With the right equipment and lure, catching bass can be an enjoyable and rewarding hobby for anyone, no matter their level of experience.
Yes, you got it right! By reading our guide to bass fishing for beginners, you will only require the basic bass tackle arsenals at your side, and you are good to go. Once you get your hands to the essentials, the next step is getting a hold of a fine bass fishing setup, plus applying all the newly acquired tips and techniques.
This will be a game-changer for all bass fishing learners right from the start, and guess what? You will become a pro on how to catch a bass.
What is Bass Fishing?
Bass fishing is a popular sport involving catching fish, a type of freshwater fish. Bass can be found in many rivers, lakes, and streams across the United States. It is an exciting and challenging activity that requires skill, patience, and knowledge of the environment. Learning to catch bass requires understanding their behavior, habitat preferences, and the best baits and lures. With practice and dedication to the craft, anyone can become a successful bass fisherman. This bass fishing guide will at least be enough to get you started. Let's start fishing!
Before that, if you are really into fishing and searching for good fishing reels, check out the best fishing reels.
Bass Fishing Gears Setup
If you already have some fishing experience and are now trying to lift your game, I recommend going for the best baitcasting reel.
These will test your patience, but practice will make you perfect. Hold on to it, and the moment you get accuracy, everything else will upgrade too, the distance plus efficiency over the entire spinning setup and bass angling.
But if you are a beginner to bass fishing and your structural goal is to catch the bass, I advise you to try the best spinning reels and rod combo. You will do so much better in targeting the bass with this accumulation. Though you can practically make use of one or the other, keep in mind that bait casters can be frustrating for the apprentices. The best way to fish for bass is always with a spinning combo till you are ready for your next venture. If you are at a level where budget is an issue, you can use baitcasting reels that are under $100.
Bass Fishing Tips for Beginners
Time and place are important determinants when it comes to bass fishing for beginners. The most common point, to begin with, is a dock or a coast near you. Although it is a decent point to start with, it could be more rewarding when you own a boat or a kayak or have access to one of these bass fishing setups.
However, you can manage fine without these too. Now, let us look at the options and the best approaches for a hassle-free bass fishing guide for beginners.
Bass Fishing on a Shore
So here it is, fishing from ashore is a perfect spot to begin your bass fishing expedition. All you require is a fishing reel, rod, and some techniques to help you on the way. An excellent bass fishing setup can be bridges, parks, and boat ramps, as they will cost you nothing but give you experience and confidence. From the 'bass fishing for beginners'' point of view, it is the best way to start. Once you take this as a weekend activity, you will keep experiencing new ways and tactics. This will eventually make you a pro in how to catch bass.
There are millions of tactics for bank fishing, like fishing near vegetation surrounding topwater lures is an apparent choice. If the water is deep enough, all you do is drag, hop, and pop in your Texas-rigged way, which is the best bass fishing tip for beginners. The Texas rig is a method used for bass fishing with plastic pipes.
Another tip is to try pitching in your plastic rigged or Senko into the shallow covers nearby, which could be the bass's hiding spot.
Bass Fishing on a Dock
To be honest, you can repeat and try all the same tips for dock bass fishing as you did for shore. The plus point is you will be a little far from the bank which can be in your favor, and yet the best-known and personally experienced tip on how to fish for bass efficiently. Hunt for the clumps as well as the sharpness in the weed growth.
Observe the depth changes in docks because the docks near the shallow areas are the best spots for angling bass. And it becomes easier with Bait casting. If your neighboring berth is among one of the many docks in a row, that would be the right place for bait casting. An essential factor in our beginner guide to bass fishing is to be civilized and considerate of the adjacent docks.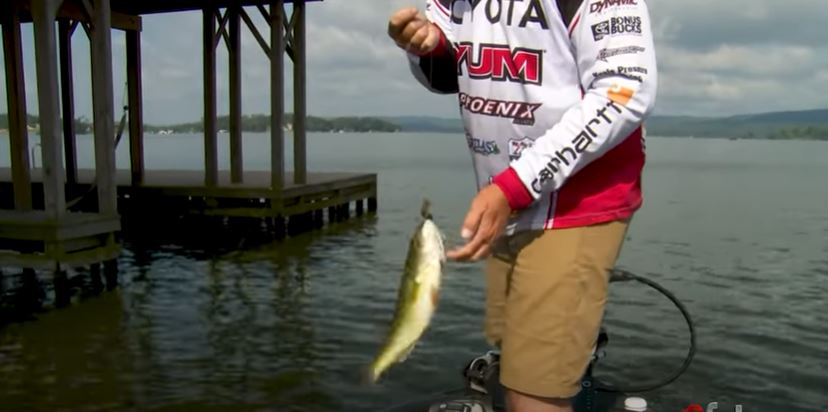 Bass Fishing from a Kayak
As mentioned earlier, having access to a small boat or kayak significantly multiplies your fishing opportunities. The options for fishing are endless with a kayak, as it is not limited to a certain area nearby a park or pier. However, if you are new to how to catch bass, you should not complicate things and let them be simple.
Temperature
Suppose you want to know how to fish for bass. In that case, you must understand that the perfect temperature range would be 65 -75 degrees, as typically, these rising temperatures above 67-70 degrees would rev up bass activity. However, the decrease in temperature below 67-61 degrees will slow the bass movement on the surface as they are lethargic because their body temperature is adjacent to the water they live in.
Similarly, when it's colder and the temperature drops below 60 degrees, they go into energy-conserving mode resulting in slow metabolism. On the other hand, when the temperature hits above 80 degrees, oxygen starts depleting at times, and then their goal is to focus on their survival.
Now the weather is beyond your control, but we can only say it's not a good time for Bass angling when the weather is too cold (below 60 degrees) or too hot (above 80 degrees). In our bass fishing for beginners guide we recommend you start at a normal temperature.
Light Conditions
The bass fishing guide is incomplete without informing you about the light conditions. When the light conditions are low, the bass is more active. It feeds in the early morning or near sunset, like late evening. These are when you can predict well and easily assemble your bass fishing set up at the right position in a specific spot.
Mostly the shore or dock angler prefer these intervals and takes advantage of their location in shallow water areas. With the sun shining into the later morning, bass swims deeper and keeps going deeper and deeper by midday, when the sun is at its peak.
At this time of the day, it's better to hunt in the holes, creeks, and humps structures in the mid-lake. But as soon as the light circumstances lower, these species will return to the shallows for feeding. The correct knowledge about the well-lit scenarios will help you find the best way to fish for bass.
Spawning Time is Crucial
The tip about treating the bass during spawning time plays a chief part in our guide to bass fishing for beginners. When the temperature hits 65 degrees in springtides (for the South, it's March or April, and for the North, the springtime would probably be May or June), it's the spawning time for Bass, and they are 3.5 feet deep in water. Reluctant in feeding at these spawning times, but could be triggered into bites.
Bass fishing can be efficiently done in spawn time as these fish are in shallow waters, condensed together, and easily identified by the spawning bed. They are 1-foot diameter circles, which may be clear or rubble, so the sand is visible, making it easy to notice.
But it's highly suggested to seize and release during this time of the year and be aware of your disturbance to the spawning beds. It's less likely to disturb the spawning beds and the roe if cast at a distance, from a boat or along the shore.
In summary, understanding when and how to fish for bass during spawning time can be a game-changer for bass fishing for beginners. By using soft plastic baits, topwater lures, and paying attention to water temperature, you can increase your chances of catching a big one. These bass fishing tips for beginners can help you get started and enjoy a successful day on the water.
Dramatic Bass Fishing Hooks and Weights
The bass fishing guide cannot be justified if the bass-angling hooks are not discussed. The options are almost endless, which can be overwhelming and puzzling for bass fishing beginners. Before moving ahead, please watch this video for a better understanding:
For bass angling, flexible plastic baits are as follows:
Offset EWG (Extra Wide Gap)
Let's talk about the offset EWG first. It's a great hook for flimsy baits like a Senko or flute-style jerk bait. The hooks bend and line up the point with the pole and the eye. The hook can be rigged "tex-posed" on the feathery lure and get you some good fish. Some Fishers even use EWG hooks for plastics, which surprisingly works wonders for them. It is the best tip among bass fishing tips for beginners.
Offset Wide Bend
These are the best for applying Texas rigged worms, and other creature lures because the hook's point is counterweighed from the bend and eye, quickly creating subversion on the hook. The Offset Wide Bend hook is an excellent choice for beginner bass fishing. With its unique design, better hookset, and versatile applications, this hook can significantly increase your chances of catching a big one. These bass fishing tips for beginners can help you get started and enjoy a successful day on the water.
Bass Fishing Rigs Beginners Guide
The techniques included in this part of our guide to bass fishing for beginners are equally suitable for young lads to pro anglers.
Monofilament:
A monofilament rig is a good choice for bass fishing beginners because it is affordable, forgiving, versatile, and easy to handle. Its stretch and forgiveness make it ideal for bass fishing, where the fish can be big and aggressive. With the assistance of this bass fishing guide for beginners, you can get going and have a productive day on the lake.
Fluorocarbon:
The Fluorocarbon line is not recommended to a bass fishing beginner to use on spinning reels though it is extremely popular. However, if you still wish to use this, try it on baitcasting gear first. The best starting point will be a 12 or 15-lb. test. Tie learning is important for this lure so strands don't cross one another. A quality line conditioner is highly recommended to overcome the stiffness and reduce bad backlashes.
Braid:
The braided lines are more rigid than mono, with small diameters for balanced strength. They are costly but, at the same time, much more long-lasting when compared to mono. The fishing plus tackling braid line has a learning arch.
If you are reading this, that means that the question 'how to catch bass' has already crossed your mind, so for a bass fishing beginner, this should also be kept in mind before really starting that the selection of fishing rigs is crucial in the bass fishing setup as it decides your daily catch.
Choosing the Best Bass Lures for Fishing Bass
This bass fishing beginner guide will shed some light on the best bass lures for beginners, which are popular among bass anglers worldwide.
Texas rigs
One of the most common and oldest ways to fish for bass is "Texas rig." All you need to do is slide some excellent mass on the line and draw it to a counterbalance worm clasp. This will let the weight move freely in both directions, upward and downwards, on the link, resulting in an action that will surely be hard to ignore for the fish.
Usually, worms are used in the process, but you can opt for any plastic bait. It won't make much of a difference. Trick and Senko are now straight-tailed, but a regular bass worm has a curly fluttering tail. Sometimes the bass won't react to fluttery tail worms. In that case, you need to dodge them with subtle straight-tailed versions.
Besides that, the Texas rig is a popular bass fishing technique for beginners because it is easy to rig, versatile, weedless, bottom-oriented, and effective. By using the Texas rig and experimenting with different baits and techniques, bass fishing beginners can quickly learn the basics of bass fishing and enjoy a successful day on the water. These bass fishing tips for beginners can help you get started and catch more fish.
Senko
The Senko is stick baits. These types of stick baits are game-changing lures for bass fishing beginners. These rigs will do the magic by gradually falling into the water column with an irresistible shimmy that the bass loves. You must rig a 5-inch-long worm in a weedless pattern on a 3/0 or 4/0 offset worm hook weightlessly, cast the Senko to the cover, and let it slide on a slackline.
If you notice them move off to the side or slightly jump in your line, then set the hook. For a wacky alternative style of fishing, you can tie on a tiny wacky rig hook and fix the worm in the center. This fishing style is undoubtedly the deadliest on Bass. Well, again, it has a drawback, and that is, the rig is slightly less weedless in comparison to Texas-style.
Buzz Bait Toad
Both the topwater bait and buzz bait toads are excellent for bass fishing over the top of grass, wood, and rock. However, they are entirely different sorts of baits but tend to give a similar presentation. Both toads create a commotion in the water column and attract the bass, but when viewed closely, differences are visible.
Like some other plastic lures, toads are rigged when used with an EWG offset worm hook. You must snappily reel the toads so they stay on top, and their legs should kick and turn to shake the surface wave. The best spot to fish with toads without hang-ups would be near the heavy vegetation.
When it comes to buzz bait toads, they are wire-formed lures with a square blade rotating on the top wire. These blades can sometimes make loud squeaky noises with a clacker and arouse bubbles in the water's surface. Few are cornered like spinnerbait; the others contain a tiny lead head and can be easily tipped with soft plastics. You can get going and have a wonderful day on the water by using these beginner's bass fishing guidelines.
Spinnerbait/ Swim Jig
These baits are dead and easy to fish. Just cast them out, reel them as slowly as you can, and do not let them hover over the bottom of them back in, working the lure with the tip of your rod. For fishing in heavier vegetation swim,jag is the best option as it is compact. This is simply the best way for beginners confused with questions such as how to catch bass easily and in short time.
Advanced Bass Lures
Some advanced bass lures you can try for fishing bass are Carolina Rig, Drop Shot, Hollow Body Frog, Swim Baits, Topwater Plugs, Chatter bait /Bladed Swim Jig, Square bill Crankbaits, and Deep Diving Crankbaits.
We don't recommend a beginner bass fishing enthusiast to move to advanced bass lures due to following reasons:
Complexity: Advanced bass lures often have complex designs and features that can be difficult for a person who is still trying to find out how to fish for bass to understand and use effectively. These lures may require specific techniques, such as a particular retrieval speed or twitching motion, to be effective.
Cost: Advanced bass lures can be expensive, and bass fishing beginners may not want to invest a lot of money in something they may not be able to use effectively. There are many affordable lures available that are just as effective for beginners.
Frustration: Using advanced bass lures can be frustrating for beginners who are still learning the basics of bass fishing. These lures may not produce results if not used properly, leading to frustration and disappointment.
Confidence: Using simple, effective lures can build a beginner's confidence and help them learn the basics of bass fishing. By focusing on the basics and catching fish, bass fishing beginners can build their skills and gain the confidence they need to tackle more advanced techniques.
An insight into Fishing knots
To answer the question of how to catch bass, one of the main parts is related to fishing knots. A few fishing knots scoops to improve the overall fishing expedition are below;
Palomar knot
This knot is not a well-known knotting technique, though it is a relatively simple, efficient, and powerful way of knotting. Sadly enough, beginners mostly don't get to know this. This knotting method is an immense help and rewards instantly if learned correctly. Any of these will work well for this type of knotting, be it mono, braided, or fluorocarbon. This knotting tip is one of the gem of bass fishing tips for beginners.
However, there are complaints reported for broken knots in fluorocarbon. Still, there is the possibility of the complainers implementing this technique in the wrong way by crossing the strands of the line. So, the catch here is to ensure no strands are crossing the line. If the lines are not muffled, they slide each other without friction, and this friction then tears the line. This, indeed, is a great bass fishing tip for beginners.
Alberto knot
Alberto will be appropriate if you are a beginner in bass fishing looking for a cost-effective knot. Undoubtedly, Palomar will be something you would like to use daily. It can help join various lines together as one. A money-saving tip could be to purchase a less expensive line online, for example, mono, or if you want something more durable, a tip can be going for braid mainline and then joining this line to a good quality leader like fluorocarbon.
This would make everything very simple and affordable. Whenever you need to change the line, you can replace the partial spool or the line's leader length rather than changing the entire thing. Moreover, the great news is that the quality line's cost increases after each season.
Now let's talk about the spinning reel quality and other bass fishing tips to keep in mind before getting one. First, use the braided mainline, and when you need something special, use your finest Alberto for tying on a fluorocarbon leader who is 5-10 foot 8-10lb. Here's another way to save some bucks on baiting gears fill half of the spool with your all-time favorite fluorocarbon and the other half with cheaper monofilament.
Tackle Storage & Accessories for Bass Fishing
Getting a tackle box is too soon for a beginner; instead would recommend buying Planto-style boxes and a good tackle backpack. The idea behind getting these rather than the tackle box is that Planto-style boxes are compact compared to the bulky and heavy tackle boxes, which can be a load to carry on your back.
Fishing bags can also be easily carried around on fishing trips with friends and family on a boat or dock. They are a versatile and handy tool for the side pockets, which can be stuffed with soft plastics or lines and other related things needed on your trip.
Many other fishing accessories are essential elements in the bass fishing guide for beginners that you will need along with your tackle bag.
Aluminum Fishing Pliers:
To clean deeply embedded hooks, plus when using tools with treble hooks.
Aluminum fishing pliers are an important tool for bass fishing beginners because they are durable, corrosion-resistant, lightweight, multi-functional, and safe. Helps to clean deeply embedded hooks, plus when using tools with treble hooks. By investing in a good set of pliers, beginners can ensure they have the necessary tools to successfully fish for bass and handle their catch.
Digital fishing scale:
For weighing your fish, you will need a handheld digital fishing scale, and make sure you own a good quality scale to ensure correct weight. Let's say you will be lucky and finally get the bite of your life!
Scissors:
For cutting the line, a sharp set of scissors are very important. Even small sewing and fabric scissors will do well for fishing.
Telescoping Fishing Nets:
When it comes to bass angling on tricky spots onshore, these telescoping fishing nets will be life-saving and easily fastened on your backpacks. Especially you are starting the hunt and experiencing 'how to catch bass' for the first time.
Polarized Sunglasses:
The polarized sunglasses help decrease the sun's glare off the water and simultaneously reduce eye strain. They can even help you see and observe your surroundings clearly, so you can focus better on your bass fishing.
'How to Catch Bass' in a nutshell:
When it comes to bass fishing for beginners, there are a few things you should keep in mind to improve your chances of success. Here are some tips on how to catch bass:
Choose the right equipment: Before you head out to the water, make sure you have the right equipment for bass fishing. This includes a fishing rod, reel, line, hooks, and lures. A medium-action spinning rod and reel combo is a great place to start for beginners.
Know the water: Understanding the water you're fishing in is crucial for catching bass. Look for areas with structure, such as weed beds, drop-offs, and underwater rocks, where bass like to hang out.
Use the right bait: There are many different types of baits that work well for bass fishing, including plastic worms, crankbaits, and topwater lures. Try different baits to see what works best for the conditions and the fish.
Experiment with different techniques: There are many different techniques for catching bass, including casting, jigging, and trolling. Experiment with different techniques to see what works best for you.
Be patient: Bass fishing can require a lot of patience, so don't get discouraged if you don't catch anything right away. Keep trying different techniques and baits until you find what works.
In summary, bass fishing for beginners can be a rewarding and enjoyable experience if you have the right equipment, know the water, use the right bait, experiment with different techniques, and are patient. By following these bass fishing tips for beginners, you can improve your chances of catching bass and having a successful day on the water.
[acf field="Schema"]
Hi, I am David. I have founded THE FISHER CAST because I believe everybody deserve to do fishing smartly. I with my team are here to make this possible for our present and future generations by giving the best hands on practical experiences and reviews.