Trout fishing may be the most popular due to its abundance but it is not as easy as it seems. If you want to have a feast of the trout you may hook, you must have the right rods and spools. The best reel for trout fishing is spinning reels that can be used in salt and fresh water.
The finest thing about trout fishing is that you can go ahead with fewer tools and achieve fruitful results. With a variety of spinning reels available in the market, you may find difficulty in choosing a good one. We have tested and shortlisted the best trout spinning reels for 2022 to make your next trout-catching adventure a memorable one.
In a hurry, find our top picks here:
Quick Comparison List of Top 5 Trout Spinning Reels
Image
Product
Details
Price
Okuma Helios Spinning Reel
Color: Multi
Handle Material: Aluminum, Stainless Steel
Weight: 0.7 Pounds
Check Price
Okuma Epixor XT
Color: Multi
Handle Material: Stainless Steel
Weight: 0.6 Pounds
Check Price
SHIMANO Stradic FL Spinning Fishing Reel
Color: Multi
Handle Material: Blend Kilograms0.5 Pounds
Check Price
Pflueger President Spinning Fishing Reel
Color: Multi
Handle Material: Stainless Steel
Weight: 0.46 Pounds

Check Price
PENN Battle II & III Spinning Fishing Reel
Color: Black/Gold/Smoke
Handle Material: Stainless Steel
Weight: 1 Pounds
Check Price
1. Okuma Helios Lightweight Spinning Reel
FEATURES
Material: Aluminum, Stainless Steel
Color: Multi
Item Weight: 0.7 Pounds
Bearing Material: Stainless Steel
As the name suggests, its feathery weight is what attracts the novice in the sea. The C-40x cyclonic flow rotor is corrosion-free and thus is durable. The twisting problem that is common among beginners is dealt with by the Torsion Control Armor technology.
The stainless steel 8HPB+1RB is completely rust-free with a quick-set anti-reverse system assembled in roller bearings. I got the effective catches with the precision machine cut pinion gear made up of high-quality brass. The main and oscillating gears are constructed with aluminite alloy with a machined anodized aluminum handle to give you a strong grip on the spool.
Talking of handles, you will enjoy the adjustable EVA knobs in this trout spinning reel that will give you comfort while angling. The precision elliptical gearing system is my personal favorite feature in this good spinning reel. This gave me a smooth and even dragging and retrieving all day long.
PROS
Torsion Control Armor
Corrosion and rust-free
Anti-reverse roller bearing
Heavy-duty aluminum and brass used
CONS
Difficult to control in a windy situation
The modern computer-balanced Rotor Equalizing System and LCS (line control spool) made it much more convenient to use. The cyclonic airflow increased the air around and underneath the spool making it dry and water-free in no time at all. If you are looking to invest in a top trout spinning reel that will make you catch loads of trout this season, then this reel is a must-buy.
---
2. Okuma Epixor XT Freshwater Spinning Reel
FEATURES
Material: Aluminum, Stainless Steel
Hand Orientation: Ambidextrous
Color: Multi
Handle Material: Stainless Steel
Item Weight: 0.6 Pounds
Fishing Line Type: Wire
Bearing Material: Stainless Steel
It is the angler's demand these days to have a lightweight spinning reel, Okuma has nailed it with Epixor's graphite construction. The durability is an important factor why beginners love using it. I was surprised by the high-end technology used and the manufacturers' excellent quality.
The graphite side plates and air rotor system are some features that I found exceptional.The carbon-fiber structure installed as C-40X and TCA Torsion Control armor makes it resilient and sturdy all through and through. The slow oscillation procedure aids in powerful dragging and retrieving trouts.
The control I had while pulling and rotating the reel was a treat in itself. The slow rotation affected the line lay and was useful with the braided lines. Depending on the size and variations, beginners and pros alike can easily control a drag of 11 to 19 pounds. The multi-disc function jells well with the Japanese lubricated drag washers.
PROS
Slow oscillation system
Graphite rotor and side plates
Lightweight and durable
Strong and sturdy
CONS
Drag slips if not acted promptly
As far as the outlook is concerned, I am satisfied with the metal handle and machined aluminum anodized rod. I enjoyed a twist and tangle-free retrieve with the LCS feature installed which reduced wind knots to a massive level. Okuma Epixor XT spinning reel is an awesome trout spinning reel as it comes under the price of 100 dollars and long-lasting.
---
3. SHIMANO Stradic FL Spinning Fishing Reel
FEATURES
Material: Blend
Hand Orientation: Left Hand
Color: Multi
Item Weight: 0.35 Kilograms
Shimano is a reliable brand when it comes to fishing reels and Stradic FL spinning reel is a true advocator of class and style. The Micro module gear II installed is an exceptional feature as it gives smooth rotation along with even power. The water repellent coating helps to keep the reel dry and durable.
The long-stroke spool gives high-end casting while the SA-RB bearing system ensures even angling with aluminum drive disc procedures. You can use Stradic FL in salt and freshwater. The carbon drag washers are designed in such a way that you can combat hefty trout with comfort and ease.
You will face no complaints about the structure as it is lightweight and corrosion-free. If I talk about the handle, it is made up of ultra-definition ABS and aluminum metal. Also, it is noise-free which I think is a needed feature in all reels.
PROS
SA-RB bearing system
Carbon drag washers
All-purpose reel
Excellent drag power
CONS
A bit expensive as compared to competitors
This reel has good dragging and retrieving with the stainless-steel ball bearings and effective gear ratio. With the capability to drag up to 50 pounds species with its powerful braided line, this reel will not let you down. If you want to buy a spinning reel that is both high quality and stays with you for many years to come, then Stradic FL will be the best choice.
---
4. Pflueger President Spinning Fishing Reel
FEATURES
Material: Aluminum
Hand Orientation: Ambidextrous
Color: Gold, Gray, Multicolor
Handle Material: Stainless Steel
Item Weight: 0.46 Pounds
Bearing Material: Stainless Steel
With the smoothest procedures and controlled oscillation options, Pflueger President Spinning fishing reels is one of the top trout spinning reels available in the market. The weight is ten percent lighter than the previous models making it comfortable for use.
This reel has made up its mark among all anglers with different designs and variations. The solid aluminum rod that can handle braided and monofilament lines give you a good option. If you see the rotor and the body, it is made up of lightweight graphite which is a symbol of its high-quality finish. Graphite is known for being corrosion and rust-free, so it makes this reel a long-time partner for you.
The patented "Sure-click" feature in this reel will make you contented as you can benefit from it while angling or just maintaining. An audible sound can be heard, when you open and close the cast for use. Thus, you are aware that your braid is ready to angle.
These reels are equipped with 10 ball bearings which enable you to have controlled and balanced dragging and retrieving. I am a huge fan of all the features in this easily accessible reel.
PROS
10 stainless steel ball bearings
Graphite rotor and body
Sure-Click bail system and sound
Graphite body & rotor
CONS
Only rated for freshwater
The model 2000 has only seven ball bearings
Pflueger President Spinning fishing reels are the reels especially for you if you want an ergonomic and even trout fishing adventure. The reviews that you read are not only my words but also of the customers who have used it frequently.
---
5. PENN Battle II & III Spinning Fishing Reel
FEATURES
Material: Stainless steel;Metal
Hand Orientation: Ambidextrous
Color: Black/Gold/Smoke
Handle Material: Stainless Steel
Item Weight: 1 Pound
Fishing Line Type: Multifilament
Bearing Material: Stainless Steel
A combination of versatility and quality makes Penn spinning reels a must-have, if you want to devour trout. Both Penn Battle II and III are accompanied by the best structure and style. Penn Battle II spinning reel is an immensely fortified spool made up of anodized aluminum. The bearing system with 5+1 ball bearing procedures helps to give twist-free and smooth retrieving.
The CNC gear technology incorporated in this reel makes dragging a piece of cake. The HT carbon fiber gives you even and controlled drag all day long. You will enjoy awesome line capacity installed to benefit you in line lay operations. The anti-reverse system is instant and solid, which made me have enough trout the day I got my hands on this reel.
Penn Battle III spinning reel has a decent place in my collection. With appreciable latest features like CNC gear procedures and good line capacity, I often use it. You can slay your catch easily with the HT carbon drag system. The design of both Penn Battle II and III are classy and sleek. Due to the full metal body with stainless steel rotor and ball bearing, it is corrosion and rust-free.
PROS
Metal and rust-free body
Super line spool
Heavy-duty bail wire
CONS
A little heavier than the competitors.
The use of high-quality paint has added to their durability and resilience. Penn Battle II and III are among the top spinning reels as they are cheap and grab good reviews from both Beginners and experts alike. The day you will get these reels, your love for trout fishing will reach the sky.
---
6. Okuma Ceymar Spinning Reel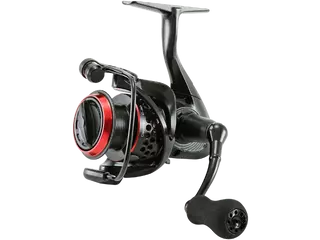 FEATURES
Material: Graphite
Hand Orientation: Ambidextrous
Color: Multi-coloured
Handle Material: EVA
Item Weight: 8.7 Ounces
Fishing Line Type: Monofilament
League: Fishing
Okuma Ceymar Spinning reel has commendable features like a multi-disc drag system and state-of-the-art anti-reverse procedures. The multi discs are lubricated and so give smooth operation. You will easily access the computer rotor and gearing system because of the latest precision machine cut brass pinion.
The structure of this trout spinning reel is just fabulous and gets full marks due to its graphite body. The black zinc anodized handle is a dignified quality that plays an important role in making this reel sturdy. I used this affordable reel all day long but didn't feel exhausted with its narrow blade design. The reason behind it was that it is frivolous and lightweight.
Okuma has emphasized giving comfort to the beginners by C-65 ergo grip handle. If you want to know about the spool, I must appreciate it too. The 2 tones anodized spool helped in the clean retrieve. Heavy-duty aluminum bail wire is used in its construction that is durable and long-lasting.
PROS
Multi-disc and lubricated drag system
Corrosion-free graphite body
Strong anodized handle design
Lightweight, EVA handle knobs
CONS
Not easily balanced in windy scenarios
Okuma has achieved success in giving its customers a good spinning reel that is cheap and of great quality. Ceymar spinning reel is a good option if you want to gift yourself with a pocket-friendly trout spinning reel.
---
7. Cadence CS10 Spinning Reel
FEATURES
Material: Magnesium
Hand Orientation: Left Hand
Color: 8lb/270 yds
Handle Material: Aluminum
Item Weight: 0.05 Kilograms
Fishing Line Type: Braided
Bearing Material: Aluminum
A reel that is built to create magic in trout fishing is the Cadence CS10 Spinning reel. With a magnesium frame and 10 ball-bearing structures, you will be satisfied with its performance. The carbon rotor and fiber drag system give you a balanced retrieve. For a comfortable grip, EVA handle knobs are installed.
This feathery light reel has 11 corrosion-free ball bearings that offer awesome anti-reverse operation. The ready-to-use braid system and aluminum spool act as a catalyst for handling pressure. I was bewitched by the ergonomic EVA knob and efficient carbon handle. The carbon fiber drag system gives you accurate and calculated angling.
I can call this reel an all-purpose tool as it has an array of models. It is a pleasure to use it in catching all the species like bass, redfish, snapper, and my favorite trout. It is the best spinning reel for both inshore and deep blues.
PROS
Magnesium frame
10+1 ball bearing
Ready to use braids
Lightweight design
The powerful drag of 36 pounds gives you hefty catches without massive exertion. As compared to the competitors, CS10 claims to give a high-end quality at an affordable price. With a good warranty of a year and great customer service, it reaches the sky of success.
---
8. KastKing Sharky III Fishing Reel – New Spinning Reel
FEATURES
Material: Aluminum
Color: Black/Blue
Handle Material: Aluminum
Item Weight: 15 Ounces
Bearing Material: Stainless Steel
A super value trout spinning reel with next generation strong built, KastKing Sharky III fishing reel is a tool of excellence. With a big size shaft and graphite body, I recommend this reel with pride. The powerful drag system is the highlight of this reel.
The stainless-steel ball bearings and precision manganese brass pinion gears give you an outstanding performance. A big thank you to the K.I.S.S. technology that makes this reel water-resistant and rust-free. It aids in keeping the reel dry and clean from debris.
I loved the noise-free and even retrieving procedures assembled in Sharky III reels. The extravagant Shark Fin braid spool made of lightweight aluminum avoids backlash while angling. With 10+1 double-shielded ball bearings and fast anti-reverse, you will enjoy an endless adventure in the sea.
You get your hands on a good line capacity and aluminum handle that helps a great deal while balancing your catch. This reel is evenly smooth and accurate with a maximum drag of 39.5 pounds. The fiber armor-plated body and a fine combination of rod and reel make it a durable friend in the water. Also check out some of the best trout fishing rods.
PROS
Multifunctional and durable
Silky smooth retrieve system
Affordable yet high quality
CONS
Smoothness lessens with time
If you are in quest of effortless fishing with efficiency and affordability, then Sharky III is the reel for you. Highly recommended as it gave me all the needed features in a best spinning reel.
---
9. Lew's Mach II Speed Spin Spinning Reel
FEATURES
Material: Synthetic
Hand Orientation: Ambidextrous
Color: Multicolor, Green
Handle Material: Aluminum
Item Weight: 0.65 Pounds
Fishing Line Type: Wire
Bearing Material: Aluminum
With its ultimate Mach II variation, this is best trout spinning reel. It is getting famous because of its all-in-one functions. A smooth drift with 10 smooth bearing procedures is experienced all day long. A strong aluminum body with c40 carbon rotor operation, this reel is definitely suitable for trout fishing.
The spool is made of double anodized aluminum and is strong and durable. With the latest technology, zero reverse and anti-reverse makes angling a lot easier and even. The gear ratio is a decent 6:2:1 which is very helpful in terms of casting at a distance.
The folding aluminum Winn Dri Tac handle knob gives you a good grip and thus helps in balancing your catch well. This reel can deal with high pressure and hefty catch with its super drag procedures. The pinion gear is extra smooth made up of precision-cut dense brass that supports its strength.
PROS
Braid ready spool
Zero reverse system
Solid brass pinion gearing
All-purpose reel
CONS
Doesn't propose upgrades from the Mach 1 reel
I felt very comfortable while using this reel as it is portable and I could carry it to different docks. If you are fishing in freshwater, Lew's Mach II Speed Spin Spinning Reel is a genuine tool that can be yours without spending a fortune.
---
10. Penn Pursuit III & Pursuit IV Spinning Fishing Reel – Best budget Reel
FEATURES
Material: Stainless Steel, Aluminum, Graphite
Hand Orientation: Ambidextrous
Color: Multi
Handle Material: Stainless Steel
Item Weight: 0.76 Pounds
Fishing Line Type: Multifilament
Bearing Material: Stainless Steel
Penn Pursuit III & Pursuit IV Spinning Fishing Reel are angler's favorite these days because of its high-end performance and affordable price. If you have a long desire of using the ultimate Penn brand in a tight budget, this is the reel for you.
The Penn Pursuit Spinning Reel's main specifications vary with its stainless-steel handle allows comfortable grip. You don't get exhausted using these reels because of its lightweight and portability. The materials used are graphite, stainless steel and aluminum that are all high-definition metals.
The anglers can enjoy corrosion and rust free bodies even if they use them in seawater. These all-purpose reels are suitable both for freshwater and saltwater endeavors. The sealed drag washers with lubricated parts add to its durability. The rotation and oscillation gears are specially designed to avoid backlash and twisting.
If we discuss the design and outlook of this reel, it is sleek and shiny. You will be satisfied with the line capacity and high-end pinion gear system. The ball bearings are stainless steel that is structured to twist you and tangle-free line lays.
PROS
Affordable and long-lasting
Sealed drag washers
Double shielded stainless steel bearings
Rust-free
CONS
May witness bail closing
Sometimes, the center gets swelled
The Penn Pursuit III and IV are a set of ideal trout spinning reels that will not let you down. These reels are pocket-friendly with all the required features you seek inefficient spinning reels to catch your trout.
---
Buying Guide to Choose the Best Trout Spinning Reels
Reading the reviews and getting the tips from the pros always help. If you are a beginner then you should have good information about the different parts and their use. If you need to buy a spinning reel for trout fishing, you must take care of the following points.
The water aspect is undermining:
Whether you intend to go for freshwater or seawater, it has a deep impact on the choice of the spinning reel. If you want to fish in seawater, you must select the reel that is made up of stainless steel, graphite, or aluminum. The line capacity should also be monitored carefully as it varies from heavy to light species.
The fish you want in your bucket:
The size of the species has a huge impact on your choice of the spinning reel. The hefty catches usually exert more pressure and you can twist your rod if have not made the right decision. The line capacity should be enough if your targeted species is trout. If you are fishing inshore then the less line capacity can be of good use too.
Several ball bearings and their construction:
Always remember that noisy ball bearings are a big mistake as it indicates poor quality construction. Moreover, the material used in the making of ball bearings should be strong and rust-free. The lubrication should be effective especially if you are fishing in deep blues.
According to our expert anglers, the quantity of bearings is not usually better but how the bearings are structured matters a lot. A top-notch spinning reel with high-quality ball bearings will give you corrosion-free parts. The high-end Corrosion resistance (CCBB)offered by good brands may be a little expensive but they are more durable.
High-Class Construction:
A combination of lightweight and strong spinning reels is what you should get your hands on. The metal part and high alloy construction will give you a hassle-free trout fishing experience. The pressure and torque can be controlled when you choose a reel that has body parts that lessen the weight.
The frames which are common these days are graphite, copolymer, and a combo of both.
The combination of copolymer and graphite is well used by anglers as it is stronger yet resilient. Along with the frame, the shaft and bearings should be designed in a way that you feel comfortable.
The use of plastic in cheap reels is not suitable if you will encounter bigger fish like catfish or heavy trout. If you are a beginner, don't waste your money on reels that have plastic parts no matter how affordable they are. Go for an all-metal construction that can survive pressure at sea. You may be attracted to the cheaper reels with plastic parts but it is not recommended.
Be cautious about the mechanism
The machine work holds a vital place in your selection of the right spinning reel. Be extra cautious about wobbling parts and test the cranking power twice. If the chosen reel has a slight movement when pressure is exerted on the shaft, you have selected the correct reel.
If you are a seasoned angler, then investing too much money on an expensive reel is not advisable. Go for a medium-budgeted reel for starters. However, if you go fishing every weekend, then you should satisfy yourself with an expensive one.
Reel Gear Ratio
If you have a limited budget then opt for a medium-speed design (5:1). However, if you can a good budget to enjoy more than one reel, having a high-end and less-speed reel in your kit will allow you to have more adventurous fishing treats.
"Line recovery" is a measurement in inches that's typically addressed for spinning reels. This quantity determines the span of the line that is coiled onto the spool for each round of the hold, so you should have good data about the line you can recover comfortably.
Drag system
A key point to remember is the effective drag system in your trout fishing spinning reel. The drag system is accountable for wiping pressure to a hooked fish, and letting out stroke while dragging. Without a smooth and high-forced drag, you will get in the hazard of fractured lines and drop your catch.
You must ensure that the reel you purchase has a leveled and non-obliging drag. The line should jerk out increasingly, without discontinuing, at whatsoever burden you custom the drag.
Anti-Reverse procedures
Anti-reverse handles are fundamental necessities to be intelligently satisfied when you are looking for the best trout spinning reel. You must also be alert that as this progression protects the handle from slithering backward so peg must be attached precisely. If there is any coincidence that the reel you're buying has any sort of backward spin, you are recommended to look for a diverse model.
Be Comfortable with your purchase
Anglers who devote time winding on a reel's knob will also think about the left-hand and right-hand issues. If you like molding with one hand and altering it to the other, it's a wise choice. Most of the spools today are variable from side to side, and it's an unassuming and basic process.
So, if you are a pro who can handle the reel in both hands, you must choose the one that can rotate easily. By reading this buying guide, we assume that you will be successful in getting the right spinning reel. All you need to do is go through the statistics and reviews.
---
FAQs
Why should I use Spinning Reels Instead of Fly Fishing?
Many anglers think fly fishing is at the zenith of trout fishing. The accuracy, and aptitude to place even the smallest of flies onto the water cannot be overlooked. However, Spinning for trout still has many advantages for both new and experienced anglers. It include the potential to cast at longer distances. Spinning reels can fight well in windy scenarios. Most of all, best trout spinning reels are cheaper than fly-fishing gears.
How much drag is required to hook a trout?
If we talk about lightweight reels, the drag should be even but not too intricate. A reel's strain should not be more controlling than 20-30% of the line breaking tension. If you are angling with 6 lb mark, then you only need 2 lb of pull. All latest trout spinning reels have influential drags that give you accurate angling.
Can I pair a heavy reel with a light line?
Pairing a hefty reel with a light line lay is not a wise decision. You will get more exhausted by doing so. The reason is that your casting will not be accurate and to maintain that you will get tired. You don't need to drain your energy and so you must maintain a balance between the two.
What is the ideal weight for trout reel setup?
The perfect weight for trout reel setup should not be more than eight ounces.
Conclusion
Trout fishing is an adventurous expedition. This type of fishing is famous all over the world. You can get this pleasure only if you have the right spinning reel. A lightweight and friction-free reel will give you even casting all day long.
You should understand that if you will invest in a good trout spinning reel, you can get your target. A quality catch can only be achieved if you are comfortable with your tool.
[acf field="Schema"]
Hi, I am David. I have founded THE FISHER CAST because I believe everybody deserve to do fishing smartly. I with my team are here to make this possible for our present and future generations by giving the best hands on practical experiences and reviews.