At some point, an angler faces problems with spinning reels while bass fishing. The problem may vary from line twist to bail spring or any other thing that can happen to your tool. Well, you can do wonders at the shore if you have best spinning reels for bass fishing.
Many of the avoidable problems can be fixed with a wise purchase and proper maintenance. With our experience and some advice, you will get information about the best spinning reels available. They are best because of their users' performance, durability, reliability, and admiration! So, here we go.
List of Best Spinning Reels for Bass in 2023
1. Cadence CS8 Spinning Reel
FEATURES
Material: Magnesium
Hand Orientation: Left Hand
Color: Silver, Multicolor, Orange
Handle Material: Stainless Steel
Item Weight: 0.05 Kilograms
Fishing Line Type: Monofilament
Bearing Material: Stainless Steel
Cadence spinning reels are well known for their outstanding performance at a very affordable price. They are manufactured with high-quality materials and owe fantastic features. It is not incorrect to call it one of the best size spinning reels for bass.
With the combination of carbon and magnesium in its body, it is ultra-lightweight at only 7.4 oz, making bass fishing more enjoyable. I am a passionate lover of bass fishing and use this spinning reel a lot. Because of the higher level of drag system, it can hold up to 20 lbs. which is considered incredible!
It is an outstanding spinning reel with a unique design consisting of 9 sealed stainless bearings. It adds to it one anti-reverse bearing with a low twist. The superb combination of gear as 6.2:1 and line capacity of 8/180, 10/150, 12/110 provides tremendous and smooth performance during bass.
I think it is a go to reel for all beginners and pros. So, if you want an all-in-one beauty, grab one today!
PROS
Massive sized ergonomic EVA handle.
One year manufacturer's warranty.
The reel is strong and durable.
Great for fighting for any fish in any situation.
Gearbox works fast and smoothly.
CONS
Cadence spinning reel is not designed for saltwater.
---
2. SHIMANO Sienna Spinning Fishing Reel
FEATURES
Material: Blend
Color: Multi
Item Weight: 272 Grams
Shimano sienna spinning reel is one of the top fishing reels for bass. A compact and super-fast spinning reel is believed to be quite expensive for enthusiastic anglers, but here we won't agree. It is a great spinning reel yet inexpensive. It is a highly balanced product with excellent performance.
It consists of all the best features an angler is looking for. It is an exemption in the case of excellent, smooth, and powerful drag. An option of casting with one hand gives fantastic output. Tremendous gearbox with an excellent quality of line capacity of almost 150 yds.
The reel is lightweight as its upper case is made up of graphite and stainless steel, which helps smooth casting. So, we can say it has reversing and reversing gear functions. One of the primary key features of this reel is its fantastic speed range which can be from 5.0:1 to 6.2:1. Plus it is available in various sizes from 500 to 4000.
A massive build and superb features are all I can say about this reel. Shimano has made its mark again with it! Buy it or regret it! Also check out the best spinning reels for trout.
PROS
Classy and stylish design in black and red color
Can be used both in saltwater and freshwater.
It is designed and crafted uniquely to make it more balanced.
CONS
The compact body brings the reel near hand and palm which creates problems sometimes.
---
3. Pflueger President Spinning Fishing Reel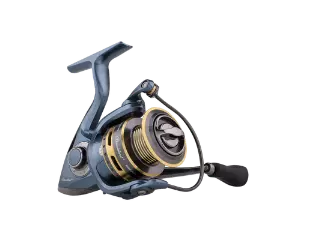 FEATURES
Material: Aluminum
Hand Orientation: Ambidextrous
Color: Multi
Handle Material: Stainless Steel
Item Weight: 0.46 Pounds
Bearing Material: Stainless Steel
Pflueger President Spinning Fishing Reel is one of Pflueger's series' best and most cheap spinning reels. It is a good spinning reel for an experienced angler and the one who is purchasing it for the first time. An amazing reel with a brilliant performance compared to the other reels present in the market.
Moreover, it is a reel with remarkable quality, materials are the best and work appropriately while casting. The durability of this reel is very high, and it is pretty easy to maintain. Without any doubt, it will help you in successful casting.
The reel consists of 10 bearing system, a graphite body, and a switchable anti-reverse gearing system. The available size of the reel starts from 20 to 40 with a gear ratio of5:2:1. The reel handle is soft that gives you a perfect grip to hold. The drag system of the president series is the same old but reliable, smooth, and powerful.
Wow! what features did I get with Pflueger President Spinning fishing reel. You will not leave it for your next adventures if you buy it!
PROS
Works best in saltwater.
Affordable.
Durable.
Superb for spin fishing.
CONS
The life span of gears and bearings is short.
Some negative reviews about line twisting and catching fish.
---
4. Penn Spin fisher VI Spinning Fishing Reel
FEATURES
Material: Other
Hand Orientation: Ambidextrous
Color: Black Gold
Handle Material: Carbon Fiber
Item Weight: 0.76 Pounds
Fishing Line Type: Multifilament
Bearing Material: Stainless Steel
Another great manufacturer by the Penn series. Yes, it is the sixth generation of Penn's spinning reel series. One of the best spinning reels for bass under 100$ and is available in various and enormous sizes depending on your need and target.
It is a solid reel for anglers with many great features yet affordable. Let us talk about its specs in detail which will win your heart. Lightweight reel for about 12.5 oz and a great dragging system that can lift to 20 pounds. The reel with an ideal gear ratio of 6.2:1.
This king reel is available in nine sizes, from 2500 to 10500. OH! that's a vast number. Yes, you have seen it correctly. It provides you with maximum size depending on your target. So don't give up!! It is tested in various conditions, from smooth to tough ones, and the results were awesome. You will surely not regret trusting it.
PROS
Versatility in each range of reel.
Great value for money.
Well built, it will last for years if maintained properly.
A fantastic fishing experience by anglers
Unique and solid features at a low price.
CONS
Some reports for too much weight.
No spare spool supplied.
---
5. Okuma Ceymer Spinning Reel
FEATURES
Material: Graphite
Hand Orientation: Ambidextrous
Color: Multi-coloured
Handle Material: Aluminum
Item Weight: 8.7 Ounces
Fishing Line Type: Monofilament
Bearing Material: Stainless Steel
League: Fishing
Okuma ceymer products are excellent in quality. They are on the favorite list of anglers. They are exceptionally well built with a metal body and aluminum handle. The unique design is well crafted with eight ball bearings which helps in smooth casting.
One of the best reels for Bass casting, weighing only eight ounces, one can cast for the whole day or several hours. The reel is famous among professional anglers for its excellent casting accuracy of 110 to 310 yards. It has an anti-reversing feature that is not available in every reel. Thus, it is helpful for the perfect hook.
Okuma has an aluminum spool that helps anglers hold and manage fishing lines and avoid various issues like twisting and tangling. One crucial key feature is an ergo grip handle that provides excellent power against large catches.
If I were you, wouldn't have missed a chance to get it in my fishing kit!
PROS
Comfortable
Durable
Various models are available; choose according to your need.
The bearing mechanism is computerized.
Ultra-lightweight
CONS
The gear ratio is different for each size and model.
Can have issues with different weather conditions like windy or cloudy.
---
6. Pflueger Supreme Spinning Fishing Reel
FEATURES
Material: Aluminum
Hand Orientation: Ambidextrous
Color: Multi
Handle Material: Aluminum
Item Weight: 0.04 Kilograms
Bearing Material: Aluminum
Pflueger supreme is the top spinning fishing reel for bass. It can apply both to saltwater and freshwater. One of the best-manufactured reels by Pflueger. The reel comes in four different sizes, from 25 to 40 . They are available with decent gear ratios of 5.2:1 and 6.2:1, depending on the size of the reel.
The supreme reel is super lightweight and is built with a magnesium body. It also has a lightweight carbon handle, which provides stress-free casting. Another best feature is its anti-reverse, which instantly provides a firm and solid hookset.
You need to take into consideration its dragging system too. The reel has a maximum drag of 12 lbs. which is relatively less than other reels. That good! Whereas if we talk about gear function, it's smooth and effective. It has ten bearings which make the reel more capable and productive.
A combination of versatility and efficiency is what I call this bass spinning reel. Those bass cannot swim away from you now!
PROS
Bearings are made up of stainless steel for a smooth get going.
Has sealed carbon drag.
Great casting modes.
Very lightweight.
CONS
The latest technologies are not incorporated into the gear system.
Drag system is deficient.
---
7. Penn Pursuit III & Pursuit IV Spinning Fishing Reel
FEATURES
Material: Stainless Steel, Aluminum, Graphite
Hand Orientation: Ambidextrous
Color: Multi
Handle Material: Stainless Steel
Item Weight: 0.76 Pounds
Fishing Line Type: Multifilament
Bearing Material: Stainless Steel
Penn Pursuit ll is the best freshwater spinning reel with great speed and upgraded drag. It presents solid durability, practical casting experience, and a super-lightweight design. Combining all these features attracts anglers to invest and purchase this fantastic reel.
Penn Pursuit is built with graphite corrosion resistance, making the reel more durable and practical in different places, even saltwater. Moreover, this great reel comes with an instant anti-reverse procedure. This slows to hook up quickly and often without any hassle.
Penn has 5 bearings and a max drag of 10 pounds. It is not an excellent reel but a capable yet affordable reel for anglers. One more feature makes this reel more effective and reliable.Can you guess?? It has an iodized aluminum spool with a machine and makes the reel more unique and efficient.
A reel with all the necessary functions is Penn Pursuit. You will enjoy this to the core, fellows!
PROS
Easy to assemble fishing reel.
Easy to learn and use for beginners also.
Comfortable and solid grip.
Upgraded drag system.
CONS
Some reports it is not robust, break easily.
Experienced anglers will not recommend this reel. Only for beginners.
---
8. Daiwa BG2500 BG Saltwater Spinning Reel
FEATURES
Material: Blend
Color: Multi
Item Weight: 272 Grams
Daiwa saltwater is the top best spinning reels for bass manufactured and built finely with great features. It has excellent dragging power along with a solid body structure.
With the combination of perfect and an ideal design, the reel is capable, effective, and productive. All these qualities lead to a high level of performance.
Let us look closely at its features. The reel is best for casting in the distance as well. It can cast smoothly and can cover a large area well. One investing in a reel looks for powerful dragging, casting, and cranking, and this reel will surely satisfy you.
The reel has an unlimited anti-reverse feature. Moreover, it comes in the dual anti-reverse feature, which is a rare feature in the spinning reels in the market. The body is built with black anodized with excellent line capacity.
A genuinely good spinning reel for bass fishing! Highly recommended to all my friends!
PROS
It has 7 bearings that are made of stainless steel.
Available in various and large sizes.
Performance of the reel while casting is flawless.
It has a braided line spool.
CONS
Compared to other reels available in the market, it is heavy, as per reports.
Max drag is a bit slow
---
9. PENN Battle II & III Spinning Fishing Reel
FEATURES
Material: Synthetic
Hand Orientation: Right Hand
Color: Black/gold
Handle Material: Aluminum, Aluminum
Item Weight: 9.3 Ounces
Fishing Line Type: Braided
Bearing Material:Aluminum
Penn battle is considered the most impressive reel in Penn's series. With its superb feature and attractive design, anglers look forward to it. They are famous as one of the best spinning reels for freshwater anglers.
The reel is best for fishing anything depending on your target, but its effectiveness will never let you down. The reel is available in several sizes, and somehow it is ruling the market due to its versatile qualities.
It is a cheaper or a budget-friendly reel with great specs, including an entire metallic body, high performance, and durability.
It has an instant anti-reverse system, a super line spool, and secured bearings. These key features make this reel a class above all other reels available in the market.
A full-proof addition to your fishing tools! You should invest in this reel for bass fishing and enjoy yourself for decades.
PROS
Customer service is impressive.
Perfect for any size fish, medium or large.
Has a great rollover.
Affordable with high performance.
Great value for money
CONS
A bit difficult to maintain.
Slightly heavier than other reels.
Not fully secured.
---
BUYING GUIDE FOR BEST SPINNING REELS
No one will deny the fact of spending quality time on the water and devoting hours to fishing in this summery weather. Indeed, it's a great activity. But here comes a problem, how to figure out the best reel that will not spoil your mood and weekend plans.
Depending on so many things about the reels, beginners go for spinning reels. They are easy to handle and always satisfy you with their fantastic performance. Moreover, experienced anglers also look for these spinning reels due to their remarkable and durable features for bass fishing.
For addressing your confusion and queries, I am mentioning some essential points. These are going to help you, and one should always consider them before investing in any bass spinning reel:
The reel size:
The size of the spinning reel plays a significant role in casting. Because the larger the size of the line, the more prominent reel would be, strengthening the capacity, dragging power, and gear ratio of the reel.
Ball Bearings:
All bearings is the most crucial feature you must look for as it indicates the smoothness and effective casting. The more ball bearings, the better would be the result, and the load is disturbed evenly throughout the reel.
Gear ratio:
The gear ratio also varies from reel to reel. The faster the retrieving is required for any catch, the higher the gear ratio must be. You must think that the higher the gear ratio reel has, the less effort is needed from your side. Moreover, I would suggest you to avoid built-in gear plastic. They are not reliable and break easily.
The drag system:
I would suggest you check the drag system of the reel first. The drag system depends on the kind of fish you would like to catch and how much weight drag can hold. You will find a variety of reels with several maximum drags. It all depends on your need. What is your target, and how heavy would be your fish?
Manufacture quality or body material:
This is general information about the reel and what kind of material is used in its construction. The size, color, designs, weight handle materials, ball-bearing material, and spool all matter. The reel is something that you do not buy daily. It's a long-term investment. Proper maintenance and care can live up to several years, so do not ever compromise your hard-earned money on material and its manufacturing detail.
Look for the reel with a warranty:
The caption itself is telling you its story. Spinning reels are not so cheap. So, you must check for a better option. Depending on your purchase amount, the reel with at least a year's warranty will still be significant. If you purchase any reel for 100$, you must go for the warranty one.
FREQUENTLY ASKED QUESTIONS
What size reel is best for bass fishing?
Different sizes of reels available in the market vary from 25 to 35. Some manufacturers mention them in four-digit numbers like 1000, 2000, 2500, etc. Both kinds of reels are available in the market, smaller and more prominent, depending on your need. The lower the number, the lighter would be the reel.
How spinning reels are better than others available in the market?
There are so many advantages and positive feedback about spinning reels. In other words, I can say that this reel is ruling the market nowadays. Beginners always opt for bass spinning reels due to their countless features and specs. They are effortless to handle yet give you the best performance. From built to drag system or from the gear ratio to line capacity spinning reels are reliable, durable, and productive in all weather conditions.
How many parts of the spinning reels are visible?
Before purchasing a spinning reel, you can feel its specs and details by viewing its features. Not all the specs are visible, but there are a few features you can go through before buying it. For example, the reel's foot, reel body, reel handle, reel line, reel's anti-reverse system, reel drag, and bail.
Conclusion time:
With the tips and information, you have plenty of information about the top bass spinning reels. If you have chosen the best one, it can be your best pal to spend a day with. The buying decision is totally up to your needs.
All the spin reels are fantastic in their performance, but my top choice spinning reel would be SHIMANO Sienna Spinning Fishing Reel. It is classy and stylish, perfect for saltwater and freshwater. Moreover, it is super-fast and durable with a powerful drag system. In short, it is a highly efficient reel with a high level of performance.
But this was my choice. You may refer to any other according to your needs. It will be appreciated if you share your experience in comments.
Enjoy bass fishing!
Hi, I am David. I have founded THE FISHER CAST because I believe everybody deserve to do fishing smartly. I with my team are here to make this possible for our present and future generations by giving the best hands on practical experiences and reviews.