Saltwater is five times more corrosive than freshwater. Thus, it may quickly damage a reel. Being an angler, you must have faced such obstacles while fishing. Therefore, you must have best saltwater reels to avoid rusting and breakage problems. We offer a solution for the most pleasing fishing adventure!
Nowadays, saltwater fishing reels are made of standard aluminum. Why aluminum? Aluminum does not rust, but it might create pitting if the salt is not wiped away quickly. As an experienced angler, I can now tell you about the 6 best saltwater fishing reels to utilize. Read further, and you won't need to spend more time deciding the best saltwater reel for yourself. You will just go and grab one!
List of Best Fishing Reels for Saltwater 2023
1. The PENN Slammer III Spinning Fishing Reel
FEATURES
Materiall: Stainless steeMetal
Hand Orientation: Ambidextrous
Color: Black Gold
Handle Material: Stainless Steel
Item Weight: 1 Pounds
Bearing Material: Stainless Steel
So, what is it about the Penn Slammer that has made it such a popular reel throughout the years, and why would you want to add one to your fishing arsenal? The answer is simple: DURABILITY.
This reel is built on suffering the abuse of saltwater fishing, particularly surfcasting. It can help you get rid of the problems such as frequent seawater spray, getting soaked while wading, getting dumped in the sand, casting heavy lures, and cutting baits repeatedly.
The Sealed Slammer, as Penn calls it, also seals the drag mechanism. This means you don't have to disassemble the reel if you soak it or drop it in the sand. All you have to do is rinse it with fresh water when you return from your excursion. The Penn Slammer III is available in eight different models.
It ranges from the 3500 with 10 lbs. of drag and a 37′′ retrieve rate to the monstrous 10500 with 60 lbs. of drag and a 43′′ retrieve rate. So, you're sure to find one that fits your target species.
The Penn Slammer III features an all-metal body, side plate, and rotor, especially significant on larger models. It keeps the pinion and gears appropriately aligned for a smoother retrieval and longer reel life.
The brass gearing system aids in smooth performance by using a CNC machine for accuracy and strength. This gear technology encompasses the whole gearbox system, including the drive, pinion, and isolator gears, ensuring long-lasting cranking power.
The Slammer III reels come with two handle knobs. A machined aluminum knob for cranking in big fish and an EVA knob for anglers who prefer soft knobs. Because I do almost all of my fishing in deep blues, I like the metal knob. Still, those who fish in more relaxed or colder locations will appreciate the EVA knob.
The Slammer III's spools are braid-ready and have line capacity circles on both the top and bottom to see how much line is left on the spool.6+1 stainless steel ball bearings -Penn Slammer III has six stainless steel ball bearings that the Slammers IPX6 seals protect. One anti-reverse roller bearing is also employed.
Friends, if you are looking for the best type of reel for saltwater, then grab this now! Highly Recommended!
PROS
It is solidly constructed, with fully machined brass gears. It's smooth, but there's a lot of drag.
It's well-sealed, with an IPX6 rating.
The Dura-Drag system generates a lot of drag.
An extensive line capacity.
Exceptional line placement.
CONS
It is heftier than some other inshore reels because of its aluminum body.
---
2. Lew's Laser Lite Speed Spin Spinning Reel
FEATURES
Material: Synthetic
Hand Orientation: Ambidextrous
Color:Silver
Handle Material: Aluminum
Item Weight: 0.01 Pounds
Fishing Line Type: Wire
Bearing Material: Aluminum
You may improve your fishing set up with the Lew's Laser Lite Speed Spin Spinning Reel. Thanks to Speed Lube and an oiled felt disc drag system, this lightweight graphite reel provides smooth, reliable performance. I found it exceptionally efficient in practically any weather situation.
In addition, it has a 7-bearing system with a Zero-Reverse 1-way clutch bearing. The skeleton graphite rotor cuts weight in all the appropriate places while retaining the structural integrity of the reel. The frame is made of robust graphite with a high-quality and sharp-looking silver finish on the outside. I could fish and fish without being exhausted.
The blue highlighted double anodized ported aluminum spool is an incredible innovation. This helps to lighten the reel while also giving it a professional look. Furthermore, the metal bail is solid and well-balanced, guaranteeing that the line is always correctly set on the spool.
This best saltwater reel has a gearbox with a small footprint. Multiple discs are included in the oiled felt drag mechanism. Also, with a skeletal rotor, the body is lightweight yet robust graphite. The six steel ball bearings plus a Zero-Reverse 1-way clutch bearing make up the 7-bearing system. Another very important feature is that it has bail wire made of aluminum that is sturdy and well-balanced.
A must-buy for saltwater, if you are finding quality and sleek outlooks in one reel. Lew's Laser Lite spin spinning reel is the best saltwater reel under 100$.
PROS
The drag is gentle.
Freshwater can run through easily
Have readily handled bass weighing up to 6 pounds
CONS
It is heftier than some other inshore reels because of its aluminum body.
---
3. Daiwa BG 2500 Spinning Reel
FEATURES
Material: Synthetic
Hand Orientation: Right Hand
Color: Black/gold
Handle Material: Aluminum, Aluminum
Item Weight: 9.3 Ounces
Fishing Line Type: Braided
Bearing Material:Aluminum
Daiwa is proud to introduce the BG 2500 Spinning Reel! This heavy-duty spinning reel has a precisely machined aluminum body and a highly corrosion-resistant side plate. It is ideal for offshore use. In addition, the Digi gear system is included in this best saltwater spinning reel. It is a drive system that uses precision cutting processes to deliver more fantastic gear meshing.
I loved the ultra-smooth operation that helped me hook too many fishes like musky and crappie. Also have a look at the best musky reels.
The new ATD drag system, in combination with a new and enhanced drag grease, gives the spool more support. It reduces spool twists under heavy loads and results in a smoother drag from the start.
I am fond of its Air Rotor system. It is a compelling yet light rotor design that provides strength and sensitivity in the design. This design distributes pressure across the entire lower region of the rotor, resulting in a significant weight reduction. The BG Spinning Reel 2500 features a 5.6:1 gear ratio, 6+1 ball bearings, and a maximum drag pressure of 6kg!
The best part is that the metal body is made of anodized aluminum. The Digi gear II delivers unrivaled cranking power and a silky-smooth operation. In addition to that, the automatic Tournament Drag system improves spool support and retrieval procedures. The 5.6:1 gear ratio retrieves 84cm every turn of the handle.
I think it is one of the most robust and yet among the best saltwater reels in the market. You will understand my verdict only after getting one for yourself.
PROS
Budget-friendly
Saltwater compatible
The line roller bearing is smooth in both inshore and offshore conditions
CONS
• It is made of plastic which may cause it to flex when the rotor rotates.
---
4. Tempo Sphera Spinning Reel
FEATURES
Material: Aluminum, Stainless Steel, Graphite
Hand Orientation: Ambidextrous
Color:Black
Handle Material: Stainless Steel,Aluminum, Stainless Steel,Aluminum
Item Weight: 8.5 Ounces
Fishing Line Type: Braided
Bearing Material:Stainless Steel
Tempo Sphera Spinning Reel is a new generation of spinning reels with a humanized design. It is on my recommendation for the best saltwater reel under 100$ because of its precise construction and multi-function features. Tempo has nearly 50 years of experience designing incredible reels and rods. This reel in particular has the optimal combination of high-performance qualities.
The Tempo Sphera Spinning Reel has a GV rotor and a light but durable carbon body. In addition, the aviation aluminum 7075 pinion gear and lightweight EVA grip knobs contribute to the total weight savings. The stainless-steel main shaft, aluminum pinion, carbon body, and GV rotor guarantee consistent performance.
I admire its metal bail, which is quite durable. It ensures that the line is evenly distributed on the roller and spool. The carbon fiber drag system on the Tempo Sphera Spinning Reel is smooth and powerful. It offers a maximum drag of 36 lbs. It is even sealed to keep dirt and water out while maintaining a constant drag.
The Sphera spinning reel has a 9 + 1 Japanese bearing arrangement that provides smooth operation. The balancing of this reel is commendable even in windy weather. The control I witnessed while retrieving a heavy tuna was mind-blowing. Check out the best tuna fishing reels.
In my experience, you can invest in this best saltwater spinning reel for its resilience and balanced operations.
PROS
Lightweight and long-lastin
Sturdy yet super Smooth,
Decent gear ratio
High-tech Innovative Fishing Reel, 9+1 BB
CONS
Loud grinding sound while dragging
---
5. Daiwa BG 5000 Spinning Reel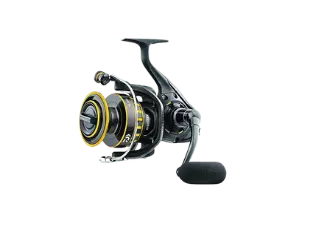 FEATURES
Material: Synthetic
Hand Orientation: Right Hand
Color: Black/gold
Handle Material: Aluminum, Aluminum
Item Weight: 0.25 Pounds
Fishing Line Type: Braided
Bearing Material: Aluminum
The Daiwa BG 5000 Spinning Reel is a sleek and long lasting reel designed for offshore fishing. This heavy-duty spinning reel's body and side plate are corrosion-resistant aluminum. In addition, it makes use of the Digi gear system, which offers improved gear meshing and ultra-smooth operation.
Technology matters and the innovative ATD drag technology in this saltwater reel must be appreciated. It eliminates spool twists under heavy loads and provides smoother drag right from the start. Also, the Air Rotor in this reel is robust, which is a lightweight design that delivers strength and sensitivity. The powerful Digi gear II drive is 50% stronger and lighter than its predecessor.
The Daiwa BG 5000 Spinning Reel is a beautiful choice if you're searching for a durable reel. The line lay is well sorted to avoid tangling while casting. Offshore fishing with this reel is just fantastic. The metal body is made of anodized aluminum. It keeps it rust-free in saltwater for ages.
For a smoother casting, there are 6+1 stainless steel bearings. The dragging power is also good. The 10kg ATD Automatic Tournament drag system decreases spool twists and improves drag performance. With a decent 5.6:1 gear ratio and 120cm retrieved per handle turn.
It is indeed the best saltwater spinning reel that is both portable and easy to operate. All these features make it shine among my top recommendations. Whether you talk about the outward construction or internal parts, this reel has nailed it. So, if you need a companion for decades in your fishing kit, go for this beauty today!
PROS
The operation is relatively smooth.
Build quality is exceptional.
Construction that is both rigid and robust
The spool that is ready to braid
After-sales service and parts availability are exceptional.
CONS
While acceptable, the maximum drag is lower than that of some rivals.•
BG is heavier than some of its competitors.
---
6. PENN Battle II & III Spinning Fishing Reel
FEATURES
Material: Aluminum
Hand Orientation: Ambidextrous
Color: Black Gold
Handle Material: Stainless Steel
Item Weight: 0.25 Kilograms
Bearing Material: Stainless Steel
PENN Battle II
The Penn Battle II Spinning Reel is a cheap, high-quality reel that is expected to survive for years if properly maintained. Penn did an excellent job of keeping the price of this reel low enough for the ordinary angler to afford it.
In your hand, the rotation feels sturdy, like a professional reel rather than a cheap piece of plastic. That makes your fishing experience wonderful. When fishing, the rubber knob still feels comfortable after hours of casting. The retrieve is incredibly smooth, one of the softest on the market with comparable reels.
Moreover, the line capacity rings- on the spool are visible lines that indicate how much line is on the spool. Generally, these lines are instrumental in ensuring that you are using the proper amount of line on your reel. You need a balanced line because it will affect your casting. Sealed ball bearings- are a critical component for saltwater applications.
The bearings affect your drag and retrieve; if they are damaged or unclean, your reel's performance will quickly deteriorate. These sealed bearings help to keep saltwater out of the system.The washers on this reel are an enhancement from the original Battle reel.The new washer's system employs both sides of the drag washers, providing approximately 20% more drag than the previous generation.
Another good improvement Penn has included in this new Battle 2 reel is higher-quality paint. This enhanced layer prevents the reel body from corrosion caused by saltwater and other pollutants. When I was spooling the braid, the rubber inlay feature made it easy to operate. The rubber inlay gripped the braided line and prevented it from slipping off the spool. A thumbs up for that!
PENN Battle III
The Penn Battle 3 now features the Slammer 3's body, rotor, and bail design. The new spin maintains its allure by keeping to the original color palette. With gunmetal embellishments, it's black and gold. Penn enthusiasts will appreciate its vintage appearance.
Suppose you've never handled a Penn spinning reel before but are used to Shimano or Daiwa reels. In that case, you'll notice a significant difference with the first handle turn. Compared to regular Shimano or Daiwa options, you'll see extra weight or resistance when spinning the handle.
The complete metal rotor used on the reel contributes to the heavier spinning experience. However, durability will not be a concern. There were no rotor arm breaks, bends, or flexes. Spool-spinning Penn's reels are known for their braid readiness. And this reel is no exception. These rubber bands are incorporated allowing users to put their braid directly onto the spool without backing or spooling tape. Truly hassle-free!
The Drag-Standard yet dependable HT-100 drag washers are installed and perform admirably. Unfortunately, the Battle 3 did not receive the Slammer 3's Dura-Drag and drag assembly technology as part of its trickle-down package, but it remains unaffected.
Both Penn Battle II and III can be stated to be among the 6 best fishing reels for saltwater.
PROS
Complete metal body
High-end smooth operations
Easy to use and sturdy
Commendable spool capacities
---
Best Fishing Reels for Saltwater Buying Guide
This shopping guide will assist you in selecting the best fishing reel. Keep a close check on the following key elements.
Features to look for in a Saltwater Fishing reel
Before you spend your money on a spinning reel, be sure to look for the following features:
Capacity of the reel:
To make an informed selection, you must first choose the type of bait, fish, and technique you want to pursue. Every fisherman has his own technique and preferred fish species, so each trip is unique.
The choices get more accessible once the decisions mentioned above have been made. Concentrate now on the weight line you desire, as this will influence the reel size you select.
Then look through the reel characteristics you're considering and evaluate the reel capacity; if it meets your needs, go for it.
Crossing the line capacity will cause it to twist and tangle more easily.
The Decent gear ratios:
The gear ratio affects the speed with which the reel retrieves the line and the ease of drawing in heavy-duty prey. They can go as high as 6.4:1. The first image depicts the spool revolution, while the second depicts the number of handle spins.
As you may expect, the higher the ratio, the better the chances of a quicker retrieval. Similarly, retrieval would be hampered if the ratio is lower, causing the entire process to slow down.
Drag system:
The dragging mechanism in saltwater fishing reel ensures that the fish does not eat your entire line. Yes, when a fish attempts to fight the bar, it provides resistance. To prevent line breaking while hauling it up, reduce the maximum drag. In this way, the line does not pull too hard. In saltwater fishing reels, there are often two forms of drag:
The front drag reels are as follows:
The front drags less forceful and less dependable. It has a direct connection to the spool. On the spool, there is a drag adjuster.
The rear drag reels are identical to the front drag reels in appearance.
They help fight prey; however, they quickly use more reels, reducing the reel's lifetime.
Ball-bearing system:
This system is made up of rings that contain miniature ball bearings. In saltwater fishing, this ball-bearing mechanism has an influence on the reel's overall performance. The higher the bearing quality, the smoother the functioning of the reel.
As a result, constantly examine the construction material of these ball bearings and their amount. Ball bearings must be manufactured of stainless steel in high-quality reels because they should be corrosion-resistant to last longer. Also, see that they are in perfect working order.
Ceramic ball bearings, on the other hand, outperform stainless-steel ball bearings. Nonetheless, they are rather pricey, and hence the reel's price will be higher. So, if you're searching for a low-cost, high-performance solution, stainless steel ball bearings are the way to go.
Quality is another consideration in terms of both cost and performance. Bearings that are saltwater resistant are more expensive, but they last longer. So don't compromise on price if you want to combat for a longer period.
Frequently Asked Questions
What sort of saltwater fishing reel do I need?
To retrieve baits at breakneck speed, high-speed saltwater reels use a gear ratio greater than 6:1. With less than a 4:1 gear ratio, low-speed saltwater reels provide more power for fighting large fish. Anglers may even adjust from high to low speed with the stroke of a button on some saltwater spinning reels.
What Size Spinning Reel Should I Use for Saltwater?
A size 2500 or 3500 reel is ideal for lighter inshore operations, but heavy offshore reels might be as large as a size 15000 or even a 25000.
How can I ensure that my reels are maintained regularly?
Whatever reel or style you pick, remember that regular maintenance will extend the life of your reel. It will allow you to enjoy many more years of trouble-free fishing. Clean and lube your gear after a day on the water according to the manufacturer's instructions. A maintenance kit for Abu Garcia reels is suggested.
What is the most affordable price for a saltwater fishing reel?
If you're a newbie, I recommend starting with a low-cost reel. As you get more experience and understand reel tackling, you may steadily improve your game and switch to premium reels.
A low-cost budget reel will set you back about $100, while a high-end reel would cost you $300 and $500.
Is there a difference between saltwater and freshwater reels?
Saltwater reels' exterior shells are anodized to prevent corrosion. Use saltwater reels for fishing in the ocean since freshwater reels are more prone to corrode, rust, and be ruined when subjected to the abuse of saltwater angling. Low-speed and high-speed reels are used for ocean fishing.
What are some of the top fishing reels for the year 2021?
The top fishing reels are PENN Slammer III Spinning Fishing Reel and PENN Fierce II & Fierce III Spinning Fishing Reel. Regarding the best budget-friendly fishing reels, I recommend the PENN Slammer III Spinning Fishing Reel and the Daiwa BG Spinning Reel.
Conclusion
Although fishing reels can become wet, they should maintain water exposure to a minimum. So, there's no need to fear if you accidentally submerge your reel in water. Instead, spend the extra time washing the revolution entirely with new water.
I advise using the PENN Slammer III Spinning Fishing Reel, composed of the highest quality corrosion-resistant materials, to ensure that your reel functions correctly. I hope this information has assisted you in selecting the best fishing reels available. Do share your experiences too in comments!
Hi, I am David. I have founded THE FISHER CAST because I believe everybody deserve to do fishing smartly. I with my team are here to make this possible for our present and future generations by giving the best hands on practical experiences and reviews.