Due to short Musky fishing season, you want to avail it to the maximum. Well, good luck with that! But as they are heavy fish, you can face issues while retrieving and dragging your catch. Usually, anglers also end up breaking their reels while combatting this particular specie, which is crucial. To meet your expectations, you must have top-notch musky reels.
Some anglers prefer baitcasting reels for hooking muskies, while others are fond of spinning reels. Good news! For your convenience, we have shortlisted the 8 best Musky Reels for you in the long run. So, without any delay, let's dig in:
List of Best Musky Reels in 2023
1. Okuma Convector Line Counter Level Wind Trolling Reel: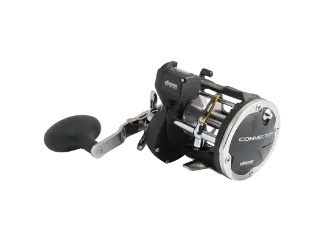 FEATURES
Material: Aluminum, Stainless Steel
Hand Orientation: Right Hand
Color: Multi
Handle Material: Aluminum
Item Weight: 22.9 Ounces
Fishing Line Type: Monofilament
Bearing Material: Stainless Steel
You can call this reel a king wrestler for catching enormous fishes. It has revolutionized the whole fishing industry and is the best musky reel under 100$. Due to its impressive specs and features, the Okuma convector has gained a remarkable position in the market. Moreover, it is highly demanded by anglers from Alaska to the Great lakes.
The reel is available in several sizes and is designed comfortably for both fishermen's right and left hands. The most noticeable and critical feature is the stainless steel and aluminum elements at the stress point. It helps keep the line stable and controlled even in windy scenarios.
The reel is lightweight, corrosion-resistant, and contains machine aluminum and an anodized spool. It has a dual anti-reverse system and offers a multi-disc carbonite drag system. The gear ratio of the Okuma convector reel is 5.2:1 and is self-lubricating in all the reel models. To increase the reel's durability, a fantastic feature of spool stabilizing.
I consider this reel a wise purchase because of the great features and affordable price it offers.A must buy!
PROS
Durable gear system.
Instant anti-reverse roller bearing.
Ergo, grip handle knobs.
One year backed warranty.
Space available for clearing copper line.
CONS
Some reports the performance needs to be upgraded.
---
2. Abu Garcia Ambassadeur S Round Bait Cast Fishing Reel:
FEATURES
Material: Stainless Steel
Hand Orientation: Right Hand
Color: Silver
Item Weight: 0.35 Kilograms
Bearing Material: Stainless Stee
When you plan to purchase a durable and productive reel, you must trust Abu Garcia Bait Casting Fishing Reel. The reel's design is so comfortable that it allows you to stay longer onshore and fish for the whole day. I felt so fresh even after long hours!
The reel is manufactured from a zinc frame. It has side aluminum plates that make the reel more durable and increase its lifespan. The reel is highly recommended by all my friend anglers. Whether experienced or beginners, it is easy to use and maintain. Even while retrieving I didn't have to put in too much force.
The stainless-steel bearings promote smooth castings and enhance the best experience. One of the most essential features of this reel is its effective brake system. It balances the brake pressure and can be adjusted as per your need. No back-lash guaranteed!
The significant part of this reel is its high-quality metal gear. You won't find this feature available in the market. Due to the comfortable grip on the handle, it is very effective and easy to you without any extra effort.
So, if you want a super fine and ultra-quick reel, you can invest in this reel without any fear.It is the best Abu Garcia musky reel!
PROS
Well-built from solid and robust stainless steel
Great value for money
Unique ergonomic design
Easy to use
Angler's famous choice
CONS
The quality of the knob is flimsy.
---
3. Abu Garcia Black Max & Max X Low Profile Bait Cast Fishing Reel:
FEATURES
Material: Aluminum
Hand Orientation: Left Hand
Color: Red, Black
Handle Material: Stainless Steel
Item Weight: 10.2 Ounces
Bearing Material: Stainless Steel
Max is one of the best baitcasting fishing reels in Abu Garcia's series. The reel is upgraded and provides high performance per the angler's demand and need. It is resiliently built with high-quality materials that make it more durable. Furthermore, it offers stronger protection against corrosion. Graphite is used in its construction to make it lighter than your expectations.
Overall, the weight of the reel is around 7.3 ounces. The reel is top-notch and customized with an addition of bearings for smooth and productive performance. The upgraded model consists of four stainless steel ball bearings and one roller bearing.
One of the most essential features of this black max reel is a solid and sturdy spool made of a special kind of aluminum. The design of the handle of this reel is remarkable, with two handles in the reel makes more accessible for the anglers to cast. It can be the best musky reel for beginners and a loyal companion for the experts.
Don't miss it!
PROS
Easier to set the hook in this reel as it has two ends.
Budget-friendly yet effective
One year of warranty
Versatile reel.
Works great in any weather condition.
Reliable
CONS
Becomes noisy and needs a proper cleaning process.
Uneven controlling drag witnessed
---
4. Shimano Corvalus Baitcasting Reel
FEATURES
Material Aluminum
Color Multi
Handle Material Aluminum
Item Weight 0.68 Pounds
Fishing Line Type Fluorocarbon
Bearing Material Aluminum
Shimano Corvus is the best reel from Shimano products so far. It is a one-piece diecast reel that fights vigorously. Constructed with an Aluminum frame and aluminum side plate offers highly functional and sturdy performance. One of the best Shimano musky reels with outstanding results.
The reel produces extraordinary results with a powerful drag system and an instant reversible brake system. I found it easily manageable. Plus, it can be cast up to a distance. The reel's weight is approximately 11 oz with a gear ratio of 5.2:1. With three ball bearings and one rolling bearing, I am a fan of its smooth performance.
This is considered one of the best Shimano musky reels among all kinds of anglers, and they have their firm believe and trust in its performance. Whether you talk about its line capacity or balanced retrieve, all is A-class.
You must buy it, if you want to add an extremely versatile reel for catching muskies this season.
PROS
Instant hook settling feature.
Great monoline capacity
Lightweight and durable
Angler's top choice.
Consistent and stable spool speed can add a significant benefit.
CONS
Pricier than its competitors.
---
5. OKUMA Coldwater 350 Low Profile Line Counter Reel:
FEATURES
Material: Composite
Hand Orientation: Right Hand
Color: Multi-coloured
Handle Material: Aluminum
Item Weight: 0.75 Pounds
Fishing Line Type: Monofilament
Bearing Material: Stainless Steel
The Okuma Coldwater is a great reel to use when planning to cast for trout, muskies, etc. It is best in freshwater. The most essential feature of this reel is that it can work both as a casting reel and a trolling reel. It is an excellent musky reel under 100$, in my view.
This reel is recommended for lakes, especially when planning to spend vacations fishing. It will surely give you a great experience. The Okuma Coldwater is very lightweight, but I never doubt its hardness and performance. It gave me utter joy when I caught 2 muskies in a row using this reel. Awesome isn't it?
The drag system should be on priority when purchasing a reel. It should be manageable, durable, and consistent. Well, this reel ensures all these features for good. The drag is relatively smooth and stress-free, like a walk in a park! You can just swirl and rotate with ease.
The ball bearing plays a vital role in this fishing reel. The ball bearings are constructed with stainless steel that prevents the reel from corrosion. Thus, it does not cost a fortune to maintain this beauty.
A good addition to your kit is what I call Okuma Coldwater. So, don't be anxious about buying this one.Get one yours today!
PROS
Ergo grip handle knobs
Upgraded precise view technology.
Great value for money
One year warranty
Great all-rounder reel.
Superb for both left hand and right hand.
CONS
It's not suitable for saltwater.
---
6. Shimano TRANX 300-400
FEATURES
Hand Orientation: Left Hand
Color: Silver 401 LH
Item Weight: 1 Pounds
The Shimano Trans is the best musky reel under 100$. Shimano tranx is good for both fresh water and saltwater (check out some good fishing reels for saltwater). You can call it an all-in-one reel. It comprises a fantastic gear ratio of 7.6:1. This is so convenient because it increases the speed of the reel and produces more effective results.
The Shimano tranx reel is stylish and powerful. It is genuinely considered one of the best musky reels and caters to all areas efficiently. With a unique build, it acts purposefully. Undoubtedly, you can call it beginners' first choice to learn and explore casting joyfully.
The reel has a decent line capacity of 14/180,17/150. Moreover, it has an S3D Spool that helps in reducing spool vibration that allows you to cast further and longer.
So, what are you waiting for? Go and get your hand to this best musky reel and have a memorable fishing experience!
PROS
A capable drag system can handle the biggest muskies.
Great value for money, budget-friendly.
Excellent for fresh fishermen or beginners.
Great reel for all kinds of fishes.
CONS
The drag system needs improvement.
---
7. Shimano Calcutta D
FEATURES
Material: Metal
Hand Orientation: Left Hand
Color: Silver
Item Weight: 335 Grams
The Shimano Calcutta D is a great little bait caster. Among anglers, it is famous for redfish, musky, and bass. It is an enduring, lightweight, and strong reel. It is uniquely designed in such a way to give a classic performance in salt water and fresh water. With a decent line capacity and durable bearing system, Calcutta-D has nailed it.
This reel can be used in any season with a combination of unique features. It will stay solid and sturdy. I fought like a warrior to catch muskies like a pro. The reel is constructed with aluminum and looks very impressive!
It has an X drag knob that is easier and more comfortable to operate. It handles and manages the drag pressure efficiently. The reel's body is more compact and solid compared to the previous series of it.
A reel that gives you comfort and resilience at the same time is Shimano's Calcutta-D.I advise you to purchase it for its strength and quality. An intelligent purchase!
PROS
Positive reviews from all over the anglers.
Durable lifespan, if maintained properly
Upgraded technology
Smoothest reel
Ergonomic reel.
Anti-rust bearings
CONS
A bit more expensive than other reels.
---
8. Abu Garcia Revo Toro Beast Bait cast Low Profile Fishing Reels
FEATURES
Material: Aluminum
Color: Black
Handle Material: Stainless Steel
Item Weight: 380 Grams
Bearing Material: Stainless Steel
There are many reels with different characteristics, but you will be surprised to know that this Revo Toro has the best characteristics. The reel is available in variations of 50 and 60, with a great combination of gear ratios 4.9:1 and 6.2:1.
It is the best Abu Garcia musky reel. Combining five stainless ball bearings and one roller bearing produces outstanding performance. The reel is available for both left-hand and right-hand retrieve. That is an added feature for an angler like me, who likes rotating onshore.
It has an extensive line capacity, a solid drag system, and a slow gear ratio. One cannot find all these specs in only one reel. This is rare! The reel is manufactured with black side plates and a black frame.
It is anglers' favorite reel, and it is such an outstanding reel that can certainly cast against heavy muskies.
PROS
Fantastic features with a compact body.
X2-Craftic alloy prevents corrosion.
Strong and effective braking system
Comfortable and convenient handles
Titanium coating
Fully metallic body and structure
CONS
Clickers are a bit noisy.
The reel is slightly heavy
Bearings should be shielded.
---
Buying Guide for Musky Reels
When we are talking about musky reels, you need to have a proper setup with upgraded apparatus for fishing. Muskies are known as enormous and compatible fish. To cast them, you need to have a solid musky reel. Musky fish are primarily present in freshwater, so plan it accordingly if you plan to cast musky.
Before investing in any musky reel, you must ensure the high quality and characteristics of that reel, which will work in any season and weather condition. The reel can hold and manage pressure and stress.
1. Types of musky reels:
You can find musky reels in different kinds, like baitcasting and spinning reels. Both the reels are best in their ways and have versatile specs, but it will entirely depend on your needs and what would you like to target.
Baitcasting reels
According to anglers, baitcasting reels are the first option if one is planning for musky fishing. These reels are easy to go, convenient, and can hold up to heavy catch (considering weight).
Spinning cast reels
Spinning musky reels are often used by anglers planning to catch small bait or medium-sized fish. They are famous among beginners as they are easy to handle and use. They are well constructed and designed in such a way that produces outstanding performance. But most anglers don't prefer this reel for muskie fishing.
2. Line Capacity
Line capacity plays a vital role in the performance of the reel. It is recommended to buy a musky reel that weighs between 15 -and 36 pounds. If the reel line weighs heavier than this, then it can cause damage to the reel. Whereas the capacity of the line should be 150 yards for better results.
3. Left Or Right-Handed:
Reels should be flexible and versatile. They must have the ability to switch towards either hands-on or any side according to the angler's convenience.
4. Gear ratio:
The gear ratio helps regulate the speed of the cast. It regulates how fast or slow you must move on with the specific ratio for smooth casting. Further, it helps to monitor and observe the ideal conditions of the muskies. A gear ratio of 5:2:1 to 6:2:1 is good for muskies.
5. Gear Materials:
Brass is used to make less durable gear materials. But some of the gears are constructed from stainless steel, which shows more effectiveness and durability. So, I would suggest you go for the stainless steel one.
6. Spools:
The manufacturing process of the spool may vary. Still, the material used in its construction is almost the same as forged Aluminum & diecasts Aluminum. Spools that are cheaper are usually made up of diecast. In contrast, a spool with forged Aluminum helps the reel to move faster and work more efficiently.
7. Warranty:
Once you invest in any reel, make sure it provides you with this facility. Because all the manufacturers do not offer this, some companies offer a one-year warranty to repair the damages. Most warranty begins to form on the first day of your purchase. Invest in a musky reel that gives you a warranty for wear and tear.
8. Price:
Price plays a critical role in everything. So, invest wisely, investigate the product before purchasing, and never compromise on the quality. Sometimes the cheaper products are better than the expensive ones. Still, I suggest you research properly and then invest your hard-earned money according to your needs.
FREQUENTLY ASKED QUESTIONS
How to choose a musky reel?
Generally, muskie fishermen opt for the baitcasting reel rather than the spinning reel. It will satisfy you with its performance and is relatively easy to handle.
What type of drag should a musky reel have?
The dragging system should be robust, but it must hold moderate eight, neither heavy nor light, for practical and smooth casting. You are suggested to go for an ideal weight be around 12 to 15 pounds.
What gear ratio would be perfect for musky fishing?
We have searched several musky reels s to find out the perfect gear ratio. According to our test and experience, the correct gear ratio is 5.0 to 5.2.
Can I use a spinning reel for musky fishing?
Spinning reels are less effective if we are explicitly looking for musky fishing. They are a bit larger, but Daiwa has shown tremendous results through our experience and test, so you can try with the Daiwa spinning reel.
From where should I buy a musky reel?
Nowadays, you can shop with just a fingertip. You can also visit the outlets to purchase musky reels or opt for online shopping too, and they will deliver you at your doorstep.
Wrap Up:
To have a blast in musky fishing you must have the right tool. The reels we have suggested are strong, durable, and have powerful dragging systems for smooth retrieval.
According to my experience, I would truly recommend Shimano's series for heavy fishing, be it Calcutta D or Tranx. These products are trustworthy, practical, reliable, and simply fantastic.
I hope now you are clear about the different kinds of musky reels available in the market, choose wisely depending on your needs and demands. Don't forget to pour in your experiences and reviews in the comments. Will be waiting!
Hi, I am David. I have founded THE FISHER CAST because I believe everybody deserve to do fishing smartly. I with my team are here to make this possible for our present and future generations by giving the best hands on practical experiences and reviews.