A relaxing fishing trip on a private boat or yacht is an angler's dream. And to make this dream come true, anglers need to add this particular item to their fishing gear, the freshwater trolling reel. The main idea behind adding a trolling fishing reel is to make fishing all more exciting and peaceful rather than worrying about line management from time to time.
It lessens all the extra effort you put in during angling. For this purpose, an angler must select the best fishing reel amongst the various freshwater trolling reels available online and in markets. These endless options of exploring spins and all claiming to do the job make it harder for the angler to pick up the best one suitable for the job.
In this article, I will make the selection of the best trolling reel easier for you by sharing my views on the top eight fishing reels I have come across so far. All these options offer unique features, making them shine out from the endless possibilities available in the markets.
List of Best Trolling Reels in 2023
So, let's begin with one of the finest offshore trolling reels available.
1. Okuma Cold Water Line Counter Trolling Reel
FEATURES
Material: Aluminum, Stainless Steel
Hand Orientation: Right Hand
Color: Multi
Handle Material: Aluminum
Item Weight: 1.36 Pounds
Fishing Line Type: Monofilament
Bearing Material: Stainless Steel
The Okuma Coldwater reel is a power-packed heavy-duty machine that is tough competition for its competitors. It is constructed upon a strong drag foundation. It features state-of-the-art technology with ever-lasting reels. So far, this Okuma trolling reel is enjoying being the best saltwater trolling reel amongst the pro anglers.
The construction material is lightweight, making it easy for the anglers to hold for long hours without stress and discomfort. The handles are aluminum made which protects unexpected cuts flex while reeling. So the ergo grip handle knobs increase the machine's grip while casting.
This Okuma trolling reel has corrosion-resistant ball bearings inside it, increasing the product's overall longevity. This machine prevents backward play when casting because it has anti-reverse roller bearings. It has a self-lubricating and speedy lock pinion gear system. This is a very rare feature and helps deal with fish wrestling for their escape.
Okuma cold water line counter reel features an oversized machine cut brass XL drive. The mechanical line counter function measures in feet. Check out the best line counter reels in the market.
In my opinion, this is a top trolling reel that has a more durable, smoother, and much stronger reel than any of the other competitors. It's undoubtedly the best choice for freshwater fishing and saltwater fishing. Okuma is a brand that is itself a symbol of quality and stability and has been serving for 31 years. Due to its durability and high-end performance, I give it a ten on ten. Highly recommended!
PROS
Lightweight
Corrosion-resistant frame and side plates
Multi-disc and a carbonite drag system
Aluminum made handle arms
Ergo grip handle knobs
CONS
A noisy reel line clicker
---
2. PENN Squall II Level Wind Conventional Fishing Reel
FEATURES
Material: Aluminum
Hand Orientation: Ambidextrous
Color: Black Gold
Handle Material: Stainless Steel, Aluminum
Item Weight: 476 Grams
Bearing Material: Stainless Steel
The PENN Squall II, Level Wind Conventional Fishing Reel, has various unique features that make it a statement reel. It features first-generation construction. I count it as an efficient reel with a fast gear access side plate, making it low maintenance.
It is available in two modes- the 2-speed lever drag and the lever drag. One of the best leading fishing reel companies "Penn". With my experience with this good trolling reel, you don't need to panic about the quality and construction; everything is well taken care of.
The pen squall has a stainless steel-made main shaft, stainless steel constructed ball bearing system with a graphite frame and side plates., It also has a solid anti-reverse system an aluminum-made braid-ready machined spool. It is available in 4 different sizes ranging from 15 to 50; it also has critical line countermodels.
The PENN Squall II Level Wind offers a user-friendly model suitable for everyone. So, it's a medium-grade reel but not a cheap or low-quality reel. It is well constructed with good quality material but doesn't offer all the other premium features. I think this reel will be the best option for those who don't go angling daily because it doesn't provide a whole metal body compared to other models.
I guarantee you a 95% catch of fish in the ocean with this offshore trolling reel. I don't use it when I need features that this reel doesn't offer when I want to target some Marlin or sailfish. If you are a novice and want don't want to spend a fortune on a trolling reel, then it can be the best option.
PROS
Fast gear side plates
Shielded stainless steel made ball bearing system
Very light in weight and low maintenance
Main gear Constructed with high-strength marine grade bronze alloy
Stainless steel made pinion gear
Added line capacity rings
CONS
It doesn't have an entire metal body
---
3. Okuma Magda Pro Line Counter Level wind Trolling Reel:
FEATURES
Material: Graphite
Hand Orientation: Right Hand
Color: Black/Silver
Handle Material: Stainless Steel
Item Weight: 1.2 Pounds
Bearing Material: Stainless Steel
Okuma Magda Pro Line, Counter Level wind Trolling Reel, is built by the brand Okuma which needs no further introduction. These Okuma trolling reels are built with high standard quality material tried and tested for quality and reliability.
This trolling fishing reel features a two-stainless steel ball-bearing system and a stainless-steel constructed level wind line guide. The side plates and frames are built with anti-corrosion-resistant material, which is light in weight. This reel can setback to 210 yds 20 lbs. It's available in both right- and left-hand retrieve, making it more user-friendly.
This reel is employed by seasoned anglers worldwide because it includes a line counter function that measures in feet. It also features a 16-point anti-reverse system for better hookups. Plus, all the models feature a self-lubricating gear system. You cannot fail with the Okuma Magda Pro Line regarding quality and sturdiness. With a minimalistic price, it offers simplicity and a superb drag system for those within the look for an awesome trolling reel.

Okuma Magda Pro Line Counter Level wind Trolling Reel is very versatile and allows accuracy to the anglers whenever. It gives you multiple options for the fishes like steelhead, salmon, walleye, and lake trout. If you're in quest of an unforgettable experience, you must choose this best trolling reel.
PROS
Light in weight
Two stainless-steel ball-bearing system
Corrosion-free plates and frames
15-size features a twin paddle handle
Anti-rust graphite spool
Dual machine cut brass gearing/li>
---
4. PENN General Purpose Level Wind Conventional Fishing Reel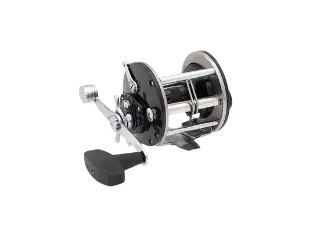 FEATURES
Material: Aluminum, Stainless Steel
Hand Orientation :Right Hand
Color: Black
Handle Material: Stainless Steel
Item Weight: 1 Pounds
Bearing Material: Stainless Steel
PENN Fishing 309MCP Level Wind 309M fishing Reel has been the go-to reel for all seasoned anglers worldwide. It offers a tier wind fishing reel that works amazingly well in both fresh and saltwater conditions. This reel features a machined aluminum spool, stainless-steel constructed gears for longevity, backlight plates.

This Penn trolling reel offers an HT-carbon fiber drag system for unmatchable and powerful drag on every occasion with no smoothness compromise. It has a counterbalanced handle and comes with oversized paddle knobs, which provide fluent and cozy cranking. With oversized paddle knobs, you'll get an excellent grip while casting and retrieving.

This freshwater trolling reel delivers reliability and legendary durability in an excellent design according to my expertise.
If you're not a seasoned angler and someone who is making limited use of trolling reels, this reel is simply right for you. Within an economic budget, Penn trolling reel PENN Fishing 309MCP Level Wind 309M Fishing Reel would be the reel for you. This reel is low in price, easy on the pocket, and delivers precisely what it promises.

The design and outlook of the Penn trolling reel boast unwavering popularity for its primary and convenient usage, standard quality components, and powerful capability. Grab it without further ado!
PROS
HT-100 carbon fiber drag system
Long-lasting durability
Machined aluminum spool
Legendary toughness and smoothness
Counterbalanced handle
---
5. SHIMANO TEKOTA 601 LINE Counter A TEKOTA
FEATURES
Material: Blend
Hand Orientation: Left Hand
Color: Multi
Item Weight: 0.99 Pounds
Shimano Tekota 601 may be a durable and best fish trolling reel fully redesigned by Shimano American corporation. With some significant improvements done to the machine, it's now corrosion-resistant and offers an easily replaceable anti-fogging lens. It has a loud clicker with the updated ergonomic S-compact outlook.
It offers lefthand orientation and is created with blend materials. it's a decent line capacity, a well-constructed body, and advanced features. it is a proven solution for the angler who works with freshwater and saltwater species. With an excessive line capacity, you mustn't worry about what percentage lines you have got left.
This Shimano reel may be a conventional style reel, which can be best fitted to both water and saltwater trollers. The seasoned saltwater anglers are stunned by the sturdiness and strength of this saltwater trolling reel. the professional lake anglers will love working with the palm-able line counter.

Shimano Tekota 601 is tested and has worked wonders on each fishing trip, with a highly impressive outcome. I got outstanding catches day after day once I used it. You'd not believe it until you'll it yourself!
PROS
Wide range of sizes and models
Wide range of power and actions
Min 3 years of warranty
Burled cork handle
Great quality
Perfect price
Versatile in performance for different kinds of species.
---
6. Sougayilang Conventional Reel Trolling Fishing Reel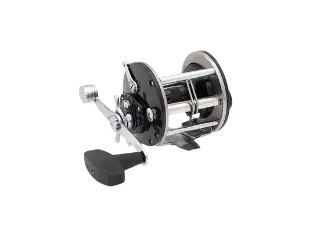 FEATURES
Material: Aluminum
Color: Black
Handle Material; Stainless Steel
Bearing Material: Stainless Steel
Sougayilang Conventional Reel Trolling Fishing Reel by the brand sougayilang, which has been serving for an extended period and over the year, has quietly filled many fishing enthusiasts globally with their vast fishing gear with the highest cost performance.
It is a saltwater trolling reel with a free-floating spool, the spool is aluminum made to reduce friction spool separated from the gear train.This reel offers a faster lure drop and casts longer. Light in weight reel with super-strong functionality will amaze even the pro anglers. The line capacity is long enough and can cover a good distance.
It's a heavy and robust drag trolling fishing reel that gives outstanding durability and cranking power.
It features a widebody design fishing reel with a large capacity. Excellent for sea fishing with awesome drag power over 30 kg. It displays a whole metal body and side plates, built with die-cast aluminum for longevity and rigidity.
It's a convenient offshore trolling reel that will make your fishing a relaxing fishing experience. It's a must for enjoying a smooth fishing experience. You will surely have a blast with its diecast aluminum body that won't get you exhausted at all.
PROS
Conventional style reel
Fast lure drop
Aluminum made spool
Tough and durable
Long enough counter reel
Large capacity
CONS
Can break in windy situations
---
7. Daiwa Sealine Sg-3B Line Counter Reel
FEATURES
Material: Composite
Hand Orientation: Right Hand
Color: Black
Handle Material: Aluminum
Item Weight: 0.65 Pounds
Bearing Material: Aluminum
Daiwa reels are gold standards for offshore trolling reels and Diawa sealine is no exception.They come with direct drive built-in counter lines which measure in feet. It features an automatic self-engaging clutch and a machined aluminum spool with a three-ball bearing system in one composite frame.
They have the additional feature of helical cut gear and spool with clickers.
The body of this reel is made with aluminum which makes it feathery light. These are quality offshore reels and work wonders of great lakes salmon. I own a pair of the 17 sized reels on the trout and salmon rods. People might think they are slightly oversized for trout and Kokanee. I use it for extra spin and multiple applications because of its U.T. drag system.
The handle is ergonomic and comfortable to use and the numbers written on the easy to reset counter and visible and readable. It has a super smooth drag, and I haven't faced any issues with the line counters. I have been using them for a few months daily. These reels perform flawlessly well in almost all conditions.
This reel is outstanding if worked with a fish founder with depth data. It efficiently eliminates guessing when you want to drop bait or where the fish are set to hop in. Awesome isn't it? These models will last you well. I can assure you that if you invest in this reel, you will make it your companion for many decades.
PROS
Direct drive line counter
three ball-bearing system
Aluminum spool with clicker
Line counter measures in feet
Smooth control with U.T. drag system
CONS
Right hand retrieve
A little heavy on the rod
---
8. KastKing ReKon Round Baitcasting Reel
FEATURES
Material: Graphite
Hand Orientation: Left Hand
Color: A: Line Counter -Size10 -Left Hand
Handle Material: Stainless Steel
Bearing Material: Stainless Steel
This line counter trolling reel is a new addition from the KastKing. It's readily available in two sizes. Rekon is a conventional trolling reel ideal for catching trout, steelhead, Kokanee, walleye, salmon, and other saltwater species.
It's a cheap trolling reel available at a very affordable price.It offers almost all the premium features which make it a must-try. The results are pretty impressive for the price you are paying. The body is made with good quality stuff and works well.It features an unmatchable mechanical line counter. This lets you keep the bait intact in the correct zone that lets you cast your fish over and again.
With high-performance components, it is designed for both stability and performance. This reel offers smooth, trouble-free trolling conditions.It uses three double shielded, stainless-steel ball-bearing systems and an instant anti-reverse bearing. The pinion gear is constructed with high-quality stainless steel. The main gear and worm shafts are built with precision machined brass.
It has great drag power to stop the fish. The rekon uses a smooth, carbon disc drag power. It has a great line capacity with is as compact as possible. It offers a two-handle option for both models, respectively. The size ten rekon has a comfortable double padded handle with an EVA grip as it is excessively used for Kokanee, trout, and walleye.
In contrast, the size 20 reel, is the larger size. It has a single power handle with a friendly and comfortable rounded knob. It makes it easier to grip the larger fish species such as steelhead, salmon, striped bass, lake trout, and other fishes requiring a long fishing line. These trolling reels are ideal for catching both small and large fish species.
They offer two compatible sizes and features, the best quality product, and robust performance in any situation. It gives you durability, power, and precision all at the same time. They offer you the best with this price quote. It provides a lot more than what you would think.I think it's the best cheap trolling reel available in the market, especially for those on a budget who want to give it a try.
PROS
Compact as possible
Inexpensive reels
Lightweight
Easy to use
CONS
Drag needs constant tightening
Anti-reverse gear is not instant
---
Buying Guide to Choose the Trolling Reels
To select a reliable and trustworthy trolling reel, you need to focus on a couple of things so you can avail the maximum benefit of this tool. We don't want you to waste your hard-earned money and then regret yourself. So, we have sorted out some important points that you should keep in mind while opting for the best trolling reel.
Construction:
The first thing on the list will be the construction. The reel's structure plays a significant role. The cheap trolling reels are made with graphite which is also a good option.But, is not the best option when your target is more giant saltwater species like marlin or tuna.
So always opt for an aluminum-made or a precision-machined solid aluminum-made trolling reel. They are more challenging and handle the stress when dealing with larger saltwater species. These top trolling reels are durable plus high-quality options for a better fishing experience.
The wind level:
The next key feature to focus on is the level of wind. It is a guide present in the trolling reel, which is responsible for the even distribution of the line as you reel in the line. The problem arises when dealing with larger saltwater species, and all the stress comes on the line. Sometimes the line hinders the wind from being leveled. However, this feature is negligible if your target is not a larger specie like trout, salmon, etc. And if you target the bigger fish in the water, then pay close attention to this feature as it will impact your angling.
Smooth Dragging System:
The next feature I would like to bring up is a smooth drag, a common feature offered by most of the available reels, as a smooth drag is crucial for casting. Similarly, multi-disc drags provide smooth dragging systems with an addition of star drag on the lever to assure ease and convenience while setting or adjusting. Drag plays an important part when hunting for a larger saltwater species. You can always have the smoothest drag in your trolling reel for hassle-free fishing.
Clicker is truly Crucial:
The last feature to concentrate on is a clicker, the loud clicking sound that you can hear every time a fish bites the line as it strikes the lure. This feature also plays a keen role in the time when you troll at different speeds. You will have to overcome the engine sound, and a silent reel while driving the boat won't be any favor to you.
Always remember, get a trolling reel only after reading its reviews and ratings. We hope you have gained good knowledge about the things to ponder on!
FREQUENTLY ASKED QUESTIONS (FAQ'S)
What is a trolling reel?
Trolling reels, commonly called "conventional reels," are the same as baitcasting reels in use, but are designed for offshore fishing. They have increased line capacities and a stronger drag system.
How can we use a trolling reel?
A fish trolling reel can be used to fish in a larger area more efficiently and hassle-free fish. It is used to cast species depending upon your boat's speed. You can use it to know the depth your target is swimming in.
What is the best trolling reel available for fishing?
The best trolling reel available is Okuma Cold Water Line Counter Trolling Reel and PENN Squall II Level Wind Conventional Fishing Reel that I have come across so far.
What is the main difference between a trolling reel and a baitcasting reel?
They are pretty similar in a few aspects, but the main difference is that baitcasting reels only let you cast the line, but the trolling spins only let you drop the line into the water, covering some depth.
Why do we need trolling reels for fishing?
We need trolling reel mainly to make fishing relaxing without constantly managing the lines. It could ruin all the adventure and fun.
Secondly, they cover a more extensive water area when compared to other kinds of reels.
What is the best way to use a fishing reel properly?
Press the spool button down to help cast the fishing line long. Hold the handle tightly close to the reel, then make a back-and-forth movement of the rod's tip to toss the line gently. Finally, apply the brake on the spool.
What is the best trolling reel for Charger fishing?
The best trolling reel for charger fishing used worldwide is non-other than Shimano TLD-II. It is durable, robust, strong, lightweight, and durable, at a great value than its competitors.
What size trolling reel do I need?
The 30- 50 trolling reel is mainly used for species like wahoo, tuna, marlin, and mahi-mahi.
What is the best fishing reel for small fish?
The best fishing reel for small fish is a smaller spinning reel. They can handle these fish conveniently, and smaller bait casters will work well. They allow the proper control and speed for shallow waters.
What is the best drag fishing reel available?
Penn Fathom LD2 is an outstanding reel with a higher max drag. It works exceptionally well.It has a smooth dragging system that gives you a controlled fishing endeavor.
Conclusion:
The market is flooded with various trolling reel options. Finding the best trolling reel that will cater to your needs is not an easy deal. But when you rely on the safe hands of experts like us, it won't be a tricky deal anymore. We are always happy to assist you in finding the best trolling reel that will provide durability, convenience, and good quality.
Trolling reels are exciting and efficient fishing reels; hence, to make the trolling fish effective, an excellent trolling reel. To excel in the fish casting experience with trolling reels, one must practice the skill to master it. Nothing is possible without constant practice and effort. The same applies to learning to use trolling reels.
Once you understand how the trolling reel works, there will be no looking back!You will be able to catch tons of fish in no time. In this article, I have given my reviews on some of the top trolling reels. I hope it makes your selection easier and saves you the time and effort spent searching the web for the best available trolling reel. Have a fishing blast!! Good luck with your next fishing expedition with trolling reels!!
Hi, I am David. I have founded THE FISHER CAST because I believe everybody deserve to do fishing smartly. I with my team are here to make this possible for our present and future generations by giving the best hands on practical experiences and reviews.