The heavy-weight reels cause fatigue and leave you exhausted at the shore. In order to catch species like panfish, crappie, or bluegills without getting tired, you can get an Ultra-light reel. The best ultralight spinning reels are most miniature models of spinning reels. They are lighter, and the best benefit is that you can involve young children in using these reels.
I am here to share my reviews about the best ultralight spinning reels to get your bucket full of these catches through my expertise and research. You must invest your money in the right tool to enjoy and relax. Right! Here are some best ultralight spinning reels, tried and tested. Enjoy your ultimate fishing experience with the ultralight spinning reels.
List of Ultralight Spinning Reels
1. Pflueger President Spinning Fishing Reel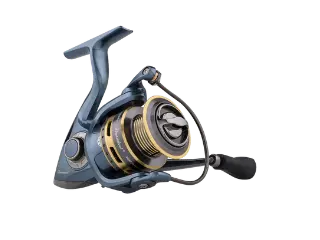 FEATURES
Material: Aluminum
Hand Orientation: Ambidextrous
Color: Multi
Handle Material: Stainless Steel
Item Weight: 0.46 Pounds
Bearing Material: Stainless Steel
The Pflueger brand spinning reel is an aluminum-made freshwater reel. It is a tremendously light-weighted reel with just 0.46 pounds weight. The spinning reel is ideal for an amateur-level fishing reel. It's an ambidextrous reel suggesting it is helpful for both right and left handlers.
The reel comes in three color variations for you to choose from gold, gray, and multicolor. The handle is made of stainless steel. On top of that, the reel comprises seven anti-corrosion stainless steel ball-bearing systems. This technology increases the life of the reel. You can use it in saltwater too, though that will reduce the reel's life.
The graphite rotor and body play their part in reducing weight for easy handling. So, it lets you sense even the slightest vibration to indicate the fish hooked.
The reel has a sealed-drag system and drag washers that keep the reel lubricated and add to the smoothness. It provides you with an excellent fishing experience. The reel has a longer line lay to have distant casts. The President spinning reel is designed uniquely to reduce line twists that will avoid disappointment, in fact, boost your fishing confidence.
It's a braid-ready spool by the frivolous graphite reel assembly. It provides you with additional ease and reduces the assembling time. As it lets you switch to a braided spool in no time. The reel comes with a manufacturer's warranty, making it a safe purchase for any problems afterwards.
PROS
Affordable, compared to similar quality reels
Average 5.2:1 gear ratio
Various size options
Easy to use
Smoother retrievals
CONS
Weak quality control
The bail flip takes time to loosen.
---
2. PENN Fierce II & Fierce III Spinning Fishing Reel
FEATURES
Material: Aluminum
Color: Red, Black
Handle Material: Stainless Steel
Item Weight: 0.14 Kilograms
Fishing Line Type: Wire
Bearing Material: Stainless Steel
The PENN Fierce II & III spinning are wired fishing line reels suited for beginners as they use the spinning fishing techniques. The reel has a range of sizes from 1000 to 8000. The greater the size, the more weight it can hold. If you get a bigger size, you can go after larger fish.
For lake fishing, a smaller size should be preferred, whereas you must get your hands on the bigger size 4000 and up for the beach. These are unisex reels, ideal for any gender use. The reel has a complete metal body structure and side plate for saltwater fishing. The fishing reel has been designed with precision gear alignment letting you drag heavy load fishes like sharks.
The 4+1 stainless steel ball-bearing system makes smoother retrieves. The sealed technology used in the ball bearings provides the reel with durability. For trouble-free line management, forceful aluminium bail wires are used. The PENN Fierce III spinning reels have an excellent line capacity of 250/15.
These come in two color variations; red and black with sturdy aluminum for the body and stainless steel for the handle. It weighs a kilogram. The drag washers use HT-100 carbon fiber replacing the felt drag used in the older model for a fearless inshore experience.They come with the company warranty, making it a secure purchase.
So, if you are looking for an easy-to-use, lightweight, well-built spinning fishing reel, you must consider The PENN Fierce spinning fishing reel series.
PROS
· Good 6.2:1 gear ratio
· Smoother retrieve due to Techno-Balanced rotor technology
· Instantaneous contra reverse bearing
· Max drag up to 15 pounds.
· Aluminum spool.
CONS
Extra line to be purchased separately.
Doesn't come pre-spooled.
---
3. Okuma Ceymar Spinning Reel
FEATURES
Material: Synthetic
Hand Orientation: Ambidextrous
Color: Multicolor
Handle Material: Aluminum
Item Weight: 0.5 Pounds
Fishing Line Type: Monofilament
Bearing Material: Stainless Steel
Okuma is a renowned brand famous for supplying fishing reels and rods for more than 31 years.
They claim to provide all kinds of fishing reels, including spinning, trolling, baitcasting, and fly reels.
Okuma Ceymar spinning reels are monofilament and multi-disc spinning reels. It has an ambidextrous hand orientation, as the other two reels reviewed above. It is an incredibly light synthetic material reel weighing just half a pound. The longest line retrieves of up to 97.4 cm.
Okuma has used a Cyclonic flow rotor to make it water and corrosion-resistant, owing to its durability and a long life even in saltwater fishing. The new precision elliptical gear system is so well built that it makes your retrieve smoother. It gives you a memorable fishing experience by increasing the cast distance. Imagine getting a good number of fish for dinner! The gear system has improved drag pressure too.
The strong aluminium bail wire and long line roller provide long life and superior performance. It has an Okuma RESII Rotor Equalizing system that doesn't quiver at high-speed spin. The RESII system is upgraded to provide precise alignment of the reel. This technology makes it a worthwhile investment for a smooth fishing experience for beginners.
The even flow Roller system used in the reels minimizes line twists, making your fishing hassle-free. These reels come with an EVA knob for the aluminium handle to add comfort.
The Okuma reels have an excellent monocline capacity of up to 0.35/340, 0.40/260, 0.5/160 millimetres. The reel has a multi-disc drag system that can bear pressure up to 16 kilograms making it a powerful spin.
PROS
· Gear ratio ranging from 6.2:1 to 4.5:1
· Increased smoothness by seven plus one ball bearings
· One anti-reverse roller bearing
· brass pinion gear
· Machined aluminum spool (two tones)
· Anti-corrosion blade body manufacturing.
CONS
The reel material is synthetic
---
4. PENN Battle II & III Spinning Fishing Reel:
FEATURES
Material: Stainless steel;Metal
Hand Orientation: Ambidextrous
Color: Black/Gold/Smoke
Handle Material: Stainless Steel
Item Weight: 1 Pounds
Fishing Line Type: Multifilament
Bearing Material: Stainless Steel
Penn Battle II and III are power-packed for combating fish. This saltwater spinning reel is made up of lightweight stainless steel. All the parts are constructed for durability and high-end performance. The side-plate, rotor, and 5+1 ball-bearings aid in smooth and even retrieve all day long. The high-quality paint adds to its elegance and makes it corrosion-free for years.
The HT -100 Versa Drag Carbon system gives maximum dragging from both sides of the washer. Even the drag washers are self-lubricated to avoid backlash or any interruption. The super-line is prevented from flexing and slipping because of the rubber gasket installed. This feature is ideal for beginners who complain about twisting and dropping all the time.
The braided line can be used without a monofilament line. Thus, you get a hassle-free experience. The heavy-duty aluminium wire adds to its life. The instant anti-reverse technology has made these reels equally famous between novice and pro anglers. The spool is highly flexible and doesn't twist or break even in windy situations
Due to its lightweight, it is easy to carry anywhere. If you want to use it in freshwater or deep blues, these will complement both scenarios. These reels are also suitable for distant angling with a decent super line spool capacity. Penn battle II and III are pocket friendly too. They are famous for their resilience and durability
So, if you are looking for some lightweight and steadfast reels, I recommend you try these reels. Also check out some best Penn Spinning reels in the market.
PROS
Full metal body and side plates
High-end performance with durability
Excellent spool capacities
CONS
A little heavier than other light reels
---
5. Daiwa BG1500 BG Saltwater Spinning Reel:
FEATURES
Material: Synthetic
Hand Orientation: Right Hand
Color: Black/Gold
Handle Material: Aluminum
Item Weight: 8.5 Ounces
Fishing Line Type: Braided
Bearing Material: Aluminum
Daiwa is a big brand name in spinning reels due to its high-end products.BG 1500 saltwater spinning reel is the best ultralight spinning reel Daiwa offers. It is an exception with a mighty dragging power of 4.4 pounds and machined anodized make. The dynamic cut aluminum housing body makes it feathery light.
The line capacity is quite decent, and the braided line-ready spool adds up to its easy-to-use features. The oversized Digi gear procedures offer smooth and even casting and angling. This is a next-generation spool that is not only sleek and stylish but hard-wearing too. The carbon ATD dragging system gives its users control over pulling hefty and small catches.
If I talk about the handles and the knobs, they are solid and tough. With 6 ball bearings and 1 roller bearing, the backlash eliminates. This gives you hindrance-free angling. Not to forget that the ball bearings are made up of stainless steel that collides and produces torque efficiently. The water-proof dragging system and air rotor keep your reel dry and clean.
In a nutshell, you can say that Daiwa BG 1500 saltwater spinning reel is a must-buy. Be it its construction or parts; all are excellent. All the features are as great as any other expensive or good-quality reels. I endorse this reel with complete confidence whole heatedly! Need one? Buy one!
PROS
Budget-friendly and competent
An even and smooth gear system
Durable and sturdy
CONS
The bail arm is closely attached to the spinning rod in smaller variants
---
6. Shimano Sahara FL
FEATURES
Material: Aluminum
Hand Orientation: Right Hand
Color: Black
Handle Material: Aluminum
Item Weight: 8.8 Ounces
Bearing Material: Aluminum
The renowned Shimano has some exceptional spinning reels to offer in the Sahara FI reels. The anglers love it because its incredible G-Free Body system provides a much easier and tire-free fishing experience. This amazingly even reel has the smoothest cranking because of the HAGANE Gear technology used for free-flowing and reduced friction while casting.
The Cold Forged Aluminum spool makes it more potent than any other reel of the like. The Aluminum spool adds to its durability and strength because of the quality material. The best model I found to be is C3000HG. It is compelling as it has a high gear ratio of 6.0:1. It is ideal, especially after a big red or snook.
It has an extremely high max drag force of about twenty pounds, making them an ideal spinning reel for beginners to start with. Amateurs love it because of the lesser pressure it requires to pull and retrieve. Thus, making it easy to use. It contains 4 and 1, ball bearings system made up of stainless steel.
The pinion gear on both sides of the bearings keeps it aligned and avoids flexing.
I recommend you to buy this ultralight spinning reel for its durability, versatility, and speed. All the features of this reel are tried and tested. All in all, it is a go-to reel because of its portability too. Don't miss it!
PROS
Lightest weighted
Affordable
Perfect protection by XT-7 body
Powerful drag
Highly sensitive
---
Buying Guide for the Best Ultralight Spinning Reels
Before getting your hands on an ultralight spinning reel, you must consider a few points. You can count them as our pieces of advice to you for help buying. We respect that your hard-earned money should be utilized in a productive manner. Let's dig in:
Ball bearings:
An ideal number of ball bearings suitable for ultralight spinning reels is 3+1 or 6+1. Quality is better than quantity, so don't only go for numbers. Instead, check the collision and torque these bearings produce. The self-lubricated ball bearings have worked fine for many years.
Rod and Reel combination:
The foremost thing to keep in mind is your reel and rod combo. You can easily pair your ultralight spinning reel with a 2lb to 4lb rated spool or an ultra-light rod. You can even get a ready-made combo of ultralight reel and rod to make your life easier. A great combination can do wonders, while a crappy one leaves you gloomy.
Cost Matters:
Quality comes at a good price. Rather than buying a cheap one and wasting your money, you should go for a medium-priced one. Why? Because if you are angling with a light reel, the cheap ones may bend or break in windy scenarios.
Construction of the reel:
Ultralight spinning reels are constructed with high-definition lightweight materials. Aluminium, Silicon carbide, and carbon fibre are usually used. These materials are expensive because of their sturdiness and resilience. We advise you to invest in these material-based spinning reels for their durability. If you buy a spinning reel that has plastic parts or low-grade materials, it may not be beneficial in the long run.
Gear Ratio:
The gearing system is an essential part of the spinning reels. The best gear ratio for ultralight spinning reels is 5:1 or 6:1. I advise you to go for a higher number of gear ratios as they let you get near your target efficiently.
Handle:
Choosing the handle according to your preference and comfort would be best. Usually, the most gripping is witnessed in these two types of handles:
Cork is proved to be more resilient and warmer. It is more attractive too if you are a fan of great outlook! Just make sure to maintain it well.
EVA foam is smooth and soft. It is also quite comfortable. I used it often because of its toughness.
We are hopeful that with these considerations in your mind, you will not make the wrong decision.
FREQUENTLY ASKED QUESTIONS
Which is the best spinning reel for crappie?
The maximum weight of crappie is 4 to 5 pounds. Due to their lightweight, ultra-light spinning reels are perfect for them. Okuma Ceymar or Shimano Stradic FL are the best options available.
What is the ideal length for an ultralight rod?
For accurate casting, the ideal length of a rod is 7 feet. The bigger the rod, the better chances of getting the catch. It will let you cast at long distances too.
Which is the lightest ultra-light spinning reel?
Shimano Stradic FL is the lightest of all ultralight categories. It is 5.6 ounces, easy to carry and highly robust.
Can you catch bass with an ultralight spinning reel?
Due to their weight and construction, ultralight reels are perfect for small fish. These species include panfish or crappie. But some anglers use it for catching heavy fishes like trout and bass under certain favorable conditions. You should not take a risk if you are a beginner, though.
Final Thoughts:
Every angler deserves relaxation and comfort. If you are fond of deep blue fishing, you must be aware of the weather conditions. Lightweight tools make your life easy while angling. They are highly portable, strong, and easy to use.
My recommendation to catch lots of crappie, perch, or any small fish is Pflueger President Spinning fishing reel. It has a decent gear ratio along with feathery light built.
Just remember to drop in your reviews after getting one from our consideration.
Hi, I am David. I have founded THE FISHER CAST because I believe everybody deserve to do fishing smartly. I with my team are here to make this possible for our present and future generations by giving the best hands on practical experiences and reviews.